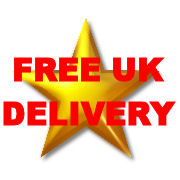 Alexander Rose Mahogany Drachmann Bench 5Ft - Three-seater bench - AR642D - Can you beat this price ANYWHERE ?
With its distinctive, reddish-brown tone, our Mahogany range will look instantly at home in your garden. Left in its natural state, it ages beautifully to a delicate silver grey. If you decide to treat it, the colour will deepen to a warm, dark red. The traditional pieces in our Mahogany range are designed to complement the typical English garden.
Mahogany is a hardwood with ideal qualities for producing excellent garden furniture with a durability of twelve years plus. It weighs 640 kg/m3 when dried and its dense structure has great strength, making it highly impact resistant.
Alexander Rose use selected FSC timber from responsibly managed forests in The Congo in Central Africa. It has a fine flecked grain with occasional figure depending on how the timber is cut. The heartwood is pinkish when freshly cut and darkens to the typical mahogany reddish brown. In time the furniture will change to a distinguished silver grey colour.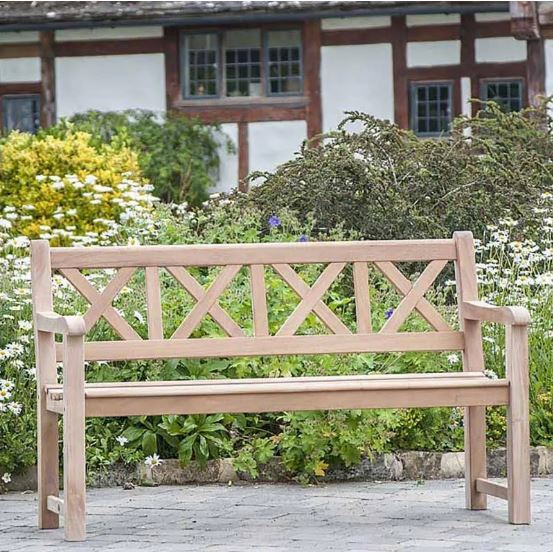 The Mahogany Collection consists of 26 pieces giving you to ability to create fantastic dining and lounging sets that will make your garden a real talking point. Each piece is made to the highest quality with intricate attention to construction details that are so important for the longevity of outdoor furniture.
The furniture can be easily enhanced and maintained by using our range of specialist treatment products.
Alexander Rose aim to be the number one quality supplier of outdoor leisure furniture to the UK and European market.
From benches, chairs, tables, to gazebos and sunshades, our stunning range of garden furniture and accessories are designed to enhance any lifestyle.
Quality products, cutting edge features and timeless design are the hallmark of Alexander Rose, and our new ranges are no exception. Housed for the first time in one brochure, we offer a wide choice of traditional and contemporary furniture collections; all designed and produced to our exacting standards.
The craftsmanship that goes into perfecting every detail increases the quality and durability of the furniture, so that you the customer will appreciate and enjoy, providing many years of pleasure.
Length 1.57m (5ft) x Depth 73.5cm (2ft 5in) x Height 109cm (3ft 7in) x Weight 37kg
FREE UK Delivery - See Terms
Write a review about "Alexander Rose Mahogany Drachmann Bench 5Ft - AR642D"
We want to know your opinion! Write a review about the product "Alexander Rose Mahogany Drachmann Bench 5Ft - AR642D" and win a National Gardening Gift Voucher of £25 !
Delivery
Islands and Highlands. Please note we may need to charge extra for delivery on certain heavy items. Please enquire before purchasing.
For example Swallow Greenhouses delivery is limited to UK mainland, and does not cover more than 15 Miles to the North of Glasgow, and does not cover Devon and Cornwall. These areas can be covered by negotiation (on price and timescales).
Your order will be sent to you within 3 working days (UK only). We use FEDEX.
Europe customers - please note - We will help if we can. We are shipping to EUROPE - as the currency exchange is currently providing benefits to EURO markets. BUT please - If in doubt about POSTAGE - Please contact us before you buy. Pref. by email. Thanks.
For certain large items (like Husqvarna Riders and Tractors) we always fully assemble and fully test these machines. Consequently, we always deliver these ourselves. These machines are subject to availability, and distance. We may NOT be prepared to undertake some distances (even within the UK mainland).
Husqvarna regulations stipulate that we must deliver Husqvarna machines personally (and perform a handover)... we therefore reserve the right restrict deliveries to reasonable distances. Exception would be for 'proficient users'.
International orders outside EUROPE are NOT currently accepted.
Read all our terms and conditions here. (opens new window)
Are you looking for the product "Alexander Rose Mahogany Drachmann Bench 5Ft - AR642D"? We offer this product in our garden centre in Pickering, North Yorkshire. You can order the product "Alexander Rose Mahogany Drachmann Bench 5Ft - AR642D" online or you can visit our garden centre in Pickering, North Yorkshire or for more information about the product "Alexander Rose Mahogany Drachmann Bench 5Ft - AR642D". We look forward to seeing you soon!