Flymo Robotic LawnMower 1200R - Automatic Mower
Flymo Robotic LawnMower 1200R - Automatic Mower

Stock
At this time, the product is not in stock.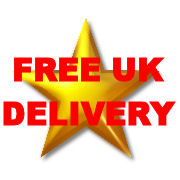 The innovative Flymo Robotic Lawnmower 1200R does your mowing for you: it mows the lawn on its own, while you enjoy your free time to do other things.
Thanks to its irregular pattern, the 1200R mows a lawn area up to a maximum of 400 m² – effectively, reliably and without wheel ruts. Always resulting in a perfectly cared-for lawn.
When required, the robotic mower recharges itself at the charging station. Its easy-to-place boundary wire shows the 1200R where to mow. It repeatedly cuts the grass tips with swing back razor-sharp blades; grass clippings disappear back into the soil acting as a natural fertiliser (mulch principle).
The cutting height of 2 to 5 cm can be easily set with a rotary knob which is located away from the blades.
With a weight of eight kilograms, the robust robotic mower tackles inclines up to 25 %. Programming is incredibly simple and quick. Different mowing times or days can be set on the large selection panel with display. Following the menu is easy and intuitive. After programming, the 1200R starts on its own at the set times, even when it rains.
The powerful and no maintenance easy-care lithium-ion 18 V /1.6 Ah battery ensures reliable and energy-saving operation. The 1200R also works very quietly and without emissions. Highly sensitive collision sensors and the boundary wire help the 1200R to avoid obstacles in the garden. Lift and tilt sensors, and a large space between the housing and blades, guarantee additional safety for people and animals. For example, when the mower is lifted, the blades immediately stop and thereby prevent injuries.
The robotic mower can also be stopped at any time with the large, easy-to-access stop button. 1200R is flexible and therefore well suited for nearly any garden type, as well as for example secondary areas.
IMPORTANT. Customers from UK or EU - We are (relative) EXPERTS in Automowers and robotic mowers. Just email us at sales@steamandmoorland.com if you have ANY questions. Alternatively, you can telephone (01751) 475666 to order, or for more information or guidance. Or Send us an Email. Thank You.
IMPORTANT NOTE - Similar machine to Husqvarna Automower 305 - but with 400 square Metre capacity
Comes complete with -
Flymo Robotic Lawn Mower 1200R
Charging Station
All Wires, Power Cable,Pegs and Connectors
A CD on "How to do the installation"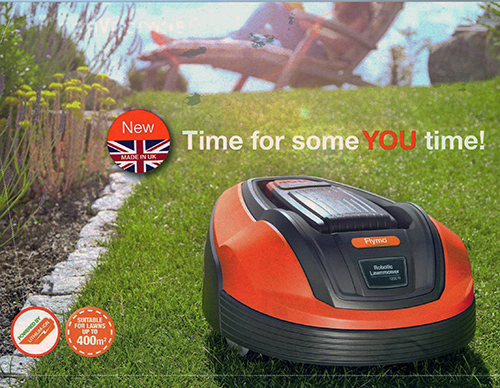 ---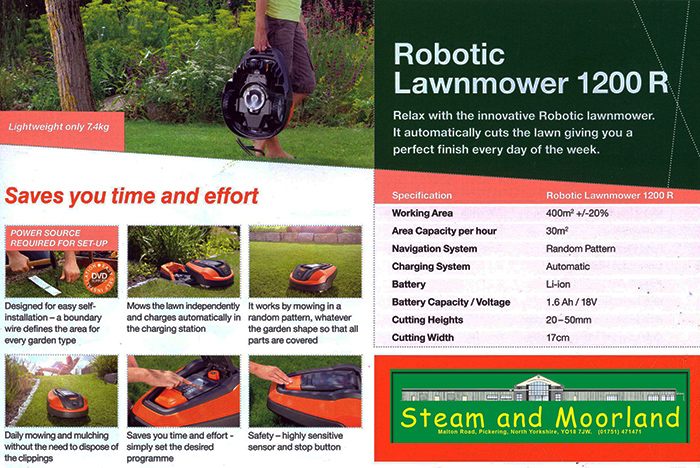 ---
FREE UK Delivery with all our Automatic Mowers. (See Terms)
Why purchase from Steam and Moorland ?
We pride ourselves on getting it right
Steam and Moorland is a family-run business based in North Yorkshire. We pride ourselves on getting your order right first time, and good communication with our customers in order to resolve any issues. See our Testimonials Page.
Paperwork Included
Our prices include VAT, and a VAT receipt is included with all goods.
Robotic Mower Experts
We have been ACTIVELY selling robotic mowers for over 10 years. We consider ourselves to be experts. Any questions - just email us.
Write a review about "Flymo Robotic LawnMower 1200R - Automatic Mower"
We want to know your opinion! Write a review about the product "Flymo Robotic LawnMower 1200R - Automatic Mower" and win a National Gardening Gift Voucher of £25 !
Delivery
Islands and Highlands. Please note we may need to charge extra for delivery on certain heavy items. Please enquire before purchasing.
For example Swallow Greenhouses delivery is limited to UK mainland, and does not cover more than 15 Miles to the North of Glasgow, and does not cover Devon and Cornwall. These areas can be covered by negotiation (on price and timescales).
Your order will be sent to you within 3 working days (UK only). We use FEDEX.
We are currently only able to deliver to UK addresses. We are no longer able to ship to Europe.
For certain large items (like Husqvarna Riders and Tractors) we always fully assemble and fully test these machines. Consequently, we always deliver these ourselves. This means that we can fulfil Husqvarna's requirement to perform an in-person handover. The only exception to this would be for "proficient users". We can deliver riders and tractors across mainland UK. Deliveries of these items within Yorkshire are FREE. Outside of Yorkshire, please contact us by phone on 01751 475666 or email us before purchasing riders and tractors to discuss delivery pricing and timescales.
Read all our terms and conditions here. (opens new window)
Are you looking for the product "Flymo Robotic LawnMower 1200R - Automatic Mower"? We offer this product in our garden centre in Pickering, North Yorkshire. You can order the product "Flymo Robotic LawnMower 1200R - Automatic Mower" online or you can visit our garden centre in Pickering, North Yorkshire or for more information about the product "Flymo Robotic LawnMower 1200R - Automatic Mower". We look forward to seeing you soon!