Husqvarna TR430 Cultivator TR 430
Husqvarna TR430 Cultivator TR 430

Stock
At this time, the product is not in stock.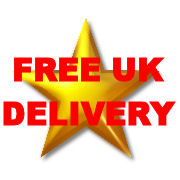 Powerful rear-tine tiller for home and landowners. Highly effective for work on densely packed earth and older lawns. Large wheels with chevron tyres and counter-rotating tines provide superior access and broken up soil. Chain drive on rotors and wheels, plus reverse gear. Handlebar height is adjustable for ergonomic operation.
Specifications
Engine Engine manufacturer Subaru
Engine type OHC
Engine name EX17
Cylinder displacement 169 cm│ / 10.31 cu.inch
Power 2.8 kW
Fuel tank volume 3.4 lit / 0.9 gal.
Rotational speed 190 rpm
Transmission Transmission type Chain/Manual
Transmission steps forward 1
Transmission steps reverse 1
Capacity Cultivator type Rear-tine
Number of tines 4
Tine diameter 305 mm / 12 inch
Working width 43 cm / 17 inch
Working depth 15 cm / 6 "
Depth adjustment steps 7
Dimensions Tyre size 406 mm / 16 "
Weight 90 kg / 200 lbs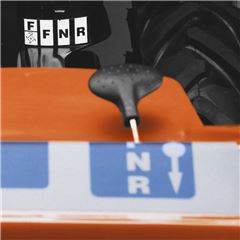 Two gears: One gear forward and one reverse, for easy operation.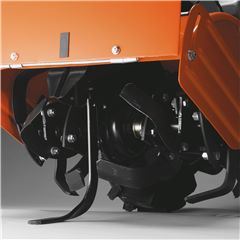 Counter-rotating tines: Tines rotate anti-clockwise, so the soil is broken up very well. Capable of deep-digging heavy soil or preparing the surface for a seed bed.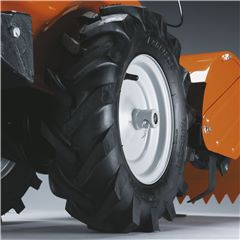 Driven wheels with chevron tires: Large wheels with heavy treads for optimised grip.
Husqvarna Policy Statement
Husqvarna Products are fully assembled and tested by our mechanics.
They carry a TWO year Husqvarna warranty - provided that -
YOU register your product correctly at - www.husqvarna.co.uk
They are used correctly - for the purposes that they are intended for.
They are serviced at the correct interval, by a Husqvarna Service Centre (like ourselves).
This product is currently ONLY available on RESERVE and COLLECT - or we are able to deliver within a 50 mile radius of Pickering, North Yorkshire. YO18 7JW.
Write a review about "Husqvarna TR430 Cultivator TR 430"
We want to know your opinion! Write a review about the product "Husqvarna TR430 Cultivator TR 430" and win a National Gardening Gift Voucher of £25 !
Delivery
Islands and Highlands. Please note we may need to charge extra for delivery on certain heavy items. Please enquire before purchasing.
For example Swallow Greenhouses delivery is limited to UK mainland, and does not cover more than 15 Miles to the North of Glasgow, and does not cover Devon and Cornwall. These areas can be covered by negotiation (on price and timescales).
Your order will be sent to you within 3 working days (UK only). We use FEDEX.
Europe customers - please note - We will help if we can. We are shipping to EUROPE - as the currency exchange is currently providing benefits to EURO markets. BUT please - If in doubt about POSTAGE - Please contact us before you buy. Pref. by email. Thanks.
For certain large items (like Husqvarna Riders and Tractors) we always fully assemble and fully test these machines. Consequently, we always deliver these ourselves. These machines are subject to availability, and distance. We may NOT be prepared to undertake some distances (even within the UK mainland).
Husqvarna regulations stipulate that we must deliver Husqvarna machines personally (and perform a handover)... we therefore reserve the right restrict deliveries to reasonable distances. Exception would be for 'proficient users'.
International orders outside EUROPE are NOT currently accepted.
Read all our terms and conditions here. (opens new window)
Are you looking for the product "Husqvarna TR430 Cultivator TR 430"? We offer this product in our garden centre in Pickering, North Yorkshire. You can order the product "Husqvarna TR430 Cultivator TR 430" online or you can visit our garden centre in Pickering, North Yorkshire or for more information about the product "Husqvarna TR430 Cultivator TR 430". We look forward to seeing you soon!