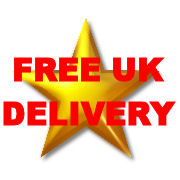 If you have large areas of mixed grass to maintain and want a reliable lawnmower that doesn't break the bank, the Toro 20956 Steel Deck Recycler« Petrol Mower is the perfect purchase.
Manufactured with a solid steel 55cm cutting deck, it provides the operator with 4 different methods to cut their grass; mulching, side discharge, rear discharge and grass collection using the 60-litre fabric grass bag.
When mulching, the excellent Toro Recycler« Cutting System produces extremely finely cut grass clippings that disappear back into your grass and return to it vital nutrients and moisture; if conditions are not conducive to mulching and you need to cut thick heavy grass, the side-discharge option is often the best choice.
Regardless of the mowing conditions you will always be in perfect harmony with your Toro 20956 thanks to Toro's automatic drive system, capable of adjusting the lawnmower's speed in tune with your stride, it aids you in achieving a consistent and uniform cut. A lever located at each wheel adjusts the height-of-cut from 25mm - 102 mm, enabling you to get the most out of the key-started 190cc Briggs & Stratton Quantum 675 Series petrol engine, whatever the mowing conditions and a deck washout port located next to the engine provides a convenient way to clean the bottom of the deck, ensuring that optimum airflow is maintained for high performance. Weight 39kg.
PRODUCT FEATURES
Automatic Drive System - A drive technology that matches your step and pace; when you speed up, the mower speeds up. When you slow down, the mower slows down. 3-in-1 Versatility - It allows you to use the mowers as a recycler, or in side discharge mode in addition to rear collection. Recycle-on-Demand - Just a simple shift of a lever switches the mower from the rear collection setting to recycling mode - Toro«'s perfected mulching technique. Washout Port - The deck washout port is a convenient way to clean the bottom of the deck - maintaining optimum airflow for high performance.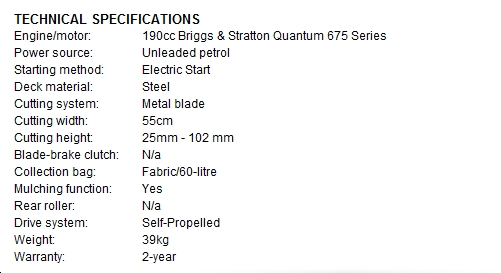 FREE UK Delivery. (See Terms)
Write a review about "TORO 20956 Recycler Mower - Electric Start"
We want to know your opinion! Write a review about the product "TORO 20956 Recycler Mower - Electric Start" and win a National Gardening Gift Voucher of £25 !
Delivery
Islands and Highlands. Please note we may need to charge extra for delivery on certain heavy items. Please enquire before purchasing.
For example Swallow Greenhouses delivery is limited to UK mainland, and does not cover more than 15 Miles to the North of Glasgow, and does not cover Devon and Cornwall. These areas can be covered by negotiation (on price and timescales).
Your order will be sent to you within 3 working days (UK only). We use FEDEX.
Europe customers - please note - We will help if we can. We are shipping to EUROPE - as the currency exchange is currently providing benefits to EURO markets. BUT please - If in doubt about POSTAGE - Please contact us before you buy. Pref. by email. Thanks.
For certain large items (like Husqvarna Riders and Tractors) we always fully assemble and fully test these machines. Consequently, we always deliver these ourselves. These machines are subject to availability, and distance. We may NOT be prepared to undertake some distances (even within the UK mainland).
Husqvarna regulations stipulate that we must deliver Husqvarna machines personally (and perform a handover)... we therefore reserve the right restrict deliveries to reasonable distances. Exception would be for 'proficient users'.
International orders outside EUROPE are NOT currently accepted.
Read all our terms and conditions here. (opens new window)
Are you looking for the product "TORO 20956 Recycler Mower - Electric Start"? We offer this product in our garden centre in Pickering, North Yorkshire. You can order the product "TORO 20956 Recycler Mower - Electric Start" online or you can visit our garden centre in Pickering, North Yorkshire or for more information about the product "TORO 20956 Recycler Mower - Electric Start". We look forward to seeing you soon!