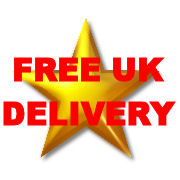 Professional Chainsaw

Husqvarna 550XP - with Autotune.
NOTE WELL. Inside you will find - Free 1L Oregon Chain Oil ! Free One-shot of 2-stroke oil ! (Compliments of Steam and Moorland Machinery Centre)
The Husqvarna 550XP is developed for demanding work by professional loggers and advanced users. The saw has a cutting edge design and is packed with innovative solutions for efficient, convenient operations. Our unique X-Torq« engine technology provide more power where you need it, up to 20% less fuel consumption and 75% less exhaust emission. RevBoost ensures immediate high chain speed for extra efficient limbing.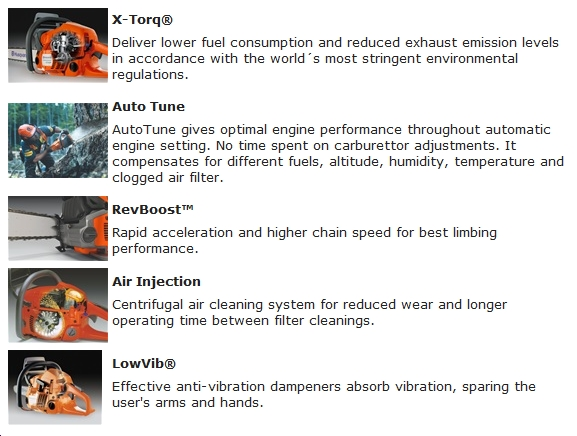 Husqvarna Policy Statement
Husqvarna Products are fully assembled and tested by our mechanics.
They carry a TWO year Husqvarna warranty - provided that -
YOU register your product correctly at - www.husqvarna.co.uk
They are used correctly - for the purposes that they are intended for.
They are serviced at the correct interval, by a Husqvarna Service Centre (like ourselves).
Why purchase from Steam and Moorland ?
We pride ourselves on getting it right
Steam and Moorland is a family-run business based in North Yorkshire. We pride ourselves on getting your order right first time, and good communication with our customers in order to resolve any issues. See our Testimonials Page.
Paperwork Included
Our prices include VAT, and a VAT receipt is included with all goods.
Write a review about "Husqvarna 550XP Petrol Chainsaw 18" Bar"
We want to know your opinion! Write a review about the product "Husqvarna 550XP Petrol Chainsaw 18" Bar" and win a National Gardening Gift Voucher of £25 !
Delivery
Islands and Highlands. Please note we may need to charge extra for delivery on certain heavy items. Please enquire before purchasing.
For example Swallow Greenhouses delivery is limited to UK mainland, and does not cover more than 15 Miles to the North of Glasgow, and does not cover Devon and Cornwall. These areas can be covered by negotiation (on price and timescales).
Your order will be sent to you within 3 working days (UK only). We use FEDEX.
Europe customers - please note - We will help if we can. We are shipping to EUROPE - as the currency exchange is currently providing benefits to EURO markets. BUT please - If in doubt about POSTAGE - Please contact us before you buy. Pref. by email. Thanks.
For certain large items (like Husqvarna Riders and Tractors) we always fully assemble and fully test these machines. Consequently, we always deliver these ourselves. These machines are subject to availability, and distance. We may NOT be prepared to undertake some distances (even within the UK mainland).
Husqvarna regulations stipulate that we must deliver Husqvarna machines personally (and perform a handover)... we therefore reserve the right restrict deliveries to reasonable distances. Exception would be for 'proficient users'.
International orders outside EUROPE are NOT currently accepted.
Read all our terms and conditions here. (opens new window)
Are you looking for the product "Husqvarna 550XP Petrol Chainsaw 18" Bar"? We offer this product in our garden centre in Pickering, North Yorkshire. You can order the product "Husqvarna 550XP Petrol Chainsaw 18" Bar" online or you can visit our garden centre in Pickering, North Yorkshire or for more information about the product "Husqvarna 550XP Petrol Chainsaw 18" Bar". We look forward to seeing you soon!