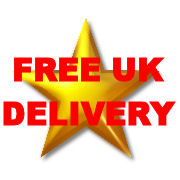 Hayter Harrier 56 - (560j )- Award-winning rear-roller rotary mowers from Hayter
The Harrier 56 is the largest pedestrian rear roller rotary mower in the Hayter range and features an impressive 56cm (22") cutting width. Freshly redesigned with a refined appearance the new Harrier 56 is offered in three models. All evolve the Hayter marque in both build quality and performance. The steel rear roller at the back enables the machine to give a formal striped finish and to cut over the lawn edge. With the height of cut raised, rough areas can also be mown with ease. Achieving a beautiful striped finish on a large lawn is now easier than ever.
Features And Benefits
Split differential ribbed rear roller for superior traction, easy turning and a perfectly striped finish
Tough ABS underdeck liner for enhanced cut and collect performance, easy cleaning and reduced noise
Die-cast aluminium deck gives corrosion resistance, high durability and long life
Variable ground speed between 1.5-3.0mph to suit different conditions and operator preferences
Briggs & Stratton engines provide guaranteed power with ReadyStart« providing performance and ease of starting
Fail safe OPC (Operator Presence Control) system
Folding handlebar for compact storage
Large capacity fabric grassbag which can be lifted through the handlebar for ease of emptying
Can be used without grassbag as a rear discharge mower
Blade Brake Clutch model allows the operator to stop the blade rotating whilst the engine is running
Smooth running long life ball bearings in front wheels
Counter-balanced single lever height of cut to give light and easy selection of the eight cutting heights
Models in the Harrier 56 range include -
Harrier 56 - Autodrive, Variable Speed
Harrier 56 - Autodrive, Electric Start, Variable Speed
Harrier 56 - Autodrive , BBC, Variable Speed
Harrier 56 Pro - Autodrive , BBC, Single Speed
For further information - Give us a call on 01751 475666.
FREE UK Delivery. (See Terms)
Write a review about "Hayter Harrier 56 560J Autodrive VS"
We want to know your opinion! Write a review about the product "Hayter Harrier 56 560J Autodrive VS" and win a National Gardening Gift Voucher of £25 !
Delivery
Islands and Highlands. Please note we may need to charge extra for delivery on certain heavy items. Please enquire before purchasing.
For example Swallow Greenhouses delivery is limited to UK mainland, and does not cover more than 15 Miles to the North of Glasgow, and does not cover Devon and Cornwall. These areas can be covered by negotiation (on price and timescales).
Your order will be sent to you within 3 working days (UK only). We use FEDEX.
Europe customers - please note - We will help if we can. We are shipping to EUROPE - as the currency exchange is currently providing benefits to EURO markets. BUT please - If in doubt about POSTAGE - Please contact us before you buy. Pref. by email. Thanks.
For certain large items (like Husqvarna Riders and Tractors) we always fully assemble and fully test these machines. Consequently, we always deliver these ourselves. These machines are subject to availability, and distance. We may NOT be prepared to undertake some distances (even within the UK mainland).
Husqvarna regulations stipulate that we must deliver Husqvarna machines personally (and perform a handover)... we therefore reserve the right restrict deliveries to reasonable distances. Exception would be for 'proficient users'.
International orders outside EUROPE are NOT currently accepted.
Read all our terms and conditions here. (opens new window)
Are you looking for the product "Hayter Harrier 56 560J Autodrive VS"? We offer this product in our garden centre in Pickering, North Yorkshire. You can order the product "Hayter Harrier 56 560J Autodrive VS" online or you can visit our garden centre in Pickering, North Yorkshire or for more information about the product "Hayter Harrier 56 560J Autodrive VS". We look forward to seeing you soon!