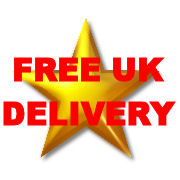 Available in four sizes, our Popular range is perfect for any gardener, whether you're an absolute beginner, enthusiastic amateur or professional.
All models come in a choice of aluminium or powder-coated green frame with four easy-clip glazing alternatives for easy fitting. Integral gutters and smooth action sliding doors are standard and a roof vent (excluding the smallest Popular in aluminium) allows constant and even ventilation. For the keenest gardeners amongst you, the more spacious models are ideal, the largest comes with two roof vents to allow air to circulate freely.
Putting up greenhouses can be a good experience especially in warm weather, and with a little bit of assistance (even just with occasional tea and biscuits). Halls greenhouses do come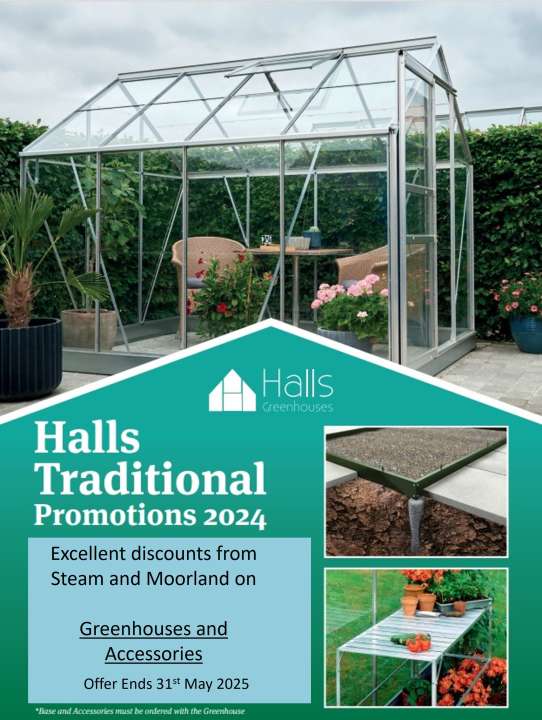 Don't forget Accessories - delivery of these is also free at the same time as purchasing a Halls greenhouse.
Why order from Steam and Moorland ?
We are a family-run business based in North Yorkshire, we endeavour to "get it right first time", but we are also reactive and tenacious in getting any problems sorted for you.
Delivery is direct, and usually takes about 7-10 days. Islands and Highlands - Please enquire first.
Do I need the BASE ?
The base is (occasionally) on offer and so (sometimes) is included with the greenhouse. In which case you can set this to ZERO.
Also, sometimes people do NOT need the base if the greenhouse is to be built onto another structure like a brick or concrete or wooden wall. However in MOST cases you will find it "far easier" to build your greenhouse onto this "purpose-designed base". Most people DO purchase the greenhouse with rthe base (unless it is included in an "offer").
Do I need the Install ?
These greenhouses DO come with good instructions - and CAN be build by a novice (like myself). However, an 8 by 8 greenhouse took me a day and a half ... and I was careful to choose fine weather ! Lots of people prefer to have the greenhouse professionally installed. However you must ENSURE that the area is correctly PREPARED for the installer. (flat / clear of debris / reasonable access etc.)
Write a review about "Halls Popular 66 Aluminium Greenhouse 6 x 6 Polycarbonate"
We want to know your opinion! Write a review about the product "Halls Popular 66 Aluminium Greenhouse 6 x 6 Polycarbonate" and win a National Gardening Gift Voucher of £25 !
Delivery
Islands and Highlands. Please note we may need to charge extra for delivery on certain heavy items. Please enquire before purchasing.
For example Swallow Greenhouses delivery is limited to UK mainland, and does not cover more than 15 Miles to the North of Glasgow, and does not cover Devon and Cornwall. These areas can be covered by negotiation (on price and timescales).
Your order will be sent to you within 3 working days (UK only). We use FEDEX.
We are currently only able to deliver to UK addresses. We are no longer able to ship to Europe.
For certain large items (like Husqvarna Riders and Tractors) we always fully assemble and fully test these machines. Consequently, we always deliver these ourselves. This means that we can fulfil Husqvarna's requirement to perform an in-person handover. The only exception to this would be for "proficient users". We can deliver riders and tractors across mainland UK. Deliveries of these items within Yorkshire are FREE. Outside of Yorkshire, please contact us by phone on 01751 475666 or email us before purchasing riders and tractors to discuss delivery pricing and timescales.
Read all our terms and conditions here. (opens new window)
Are you looking for the product "Halls Popular 66 Aluminium Greenhouse 6 x 6 Polycarbonate"? We offer this product in our garden centre in Pickering, North Yorkshire. You can order the product "Halls Popular 66 Aluminium Greenhouse 6 x 6 Polycarbonate" online or you can visit our garden centre in Pickering, North Yorkshire or for more information about the product "Halls Popular 66 Aluminium Greenhouse 6 x 6 Polycarbonate". We look forward to seeing you soon!