Eden BIRDLIP
Although the smallest greenhouse in the range, the Birdlip is big on features and performance. High eaves ensure plenty of room for you and your specimin plants. Large roof vents keep the growing area well ventilated in the Summer months. The revolutionary Zero Threshold™ door system ensures smooth, jam free operation, while the gutters enable you to capture the most rainwater possible. 40mm downpipes are supplied as standard and are compatible with widely available plumbing parts.

Supplied with a strong integral base for ease of installation.
Choose from 3mm horticultural glass, 3mm long paned toughened glass or 6mm polycarbonate glazing options.
The Birdlip is available in three attractive frame finishes : Aluminium (also known as Mill), Green and Black.
---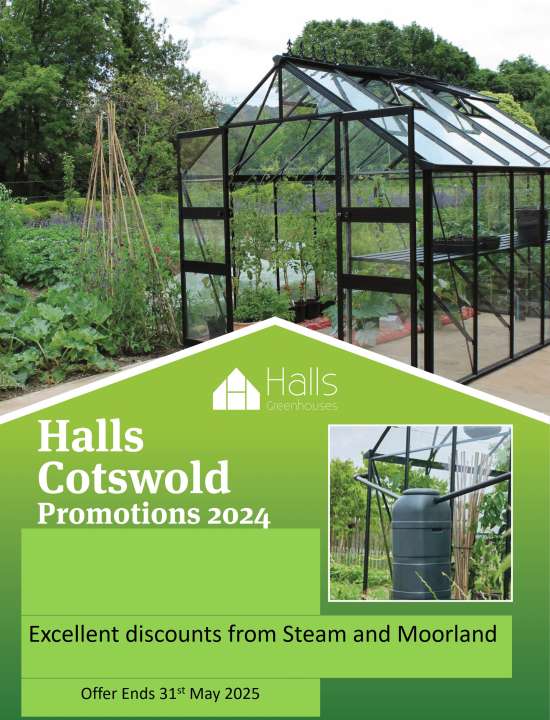 ---
IMPORTANT Sizing Information
Before you build your base, please check this important sizing information. Thank You.

Why order from Steam and Moorland ?
We are a family-run business based in North Yorkshire, we endeavour to "get it right first time", but we are also reactive and tenacious in getting any problems sorted for you.
Delivery is direct, and usually takes about 7-10 days. Islands and Highlands - Please Enquire first.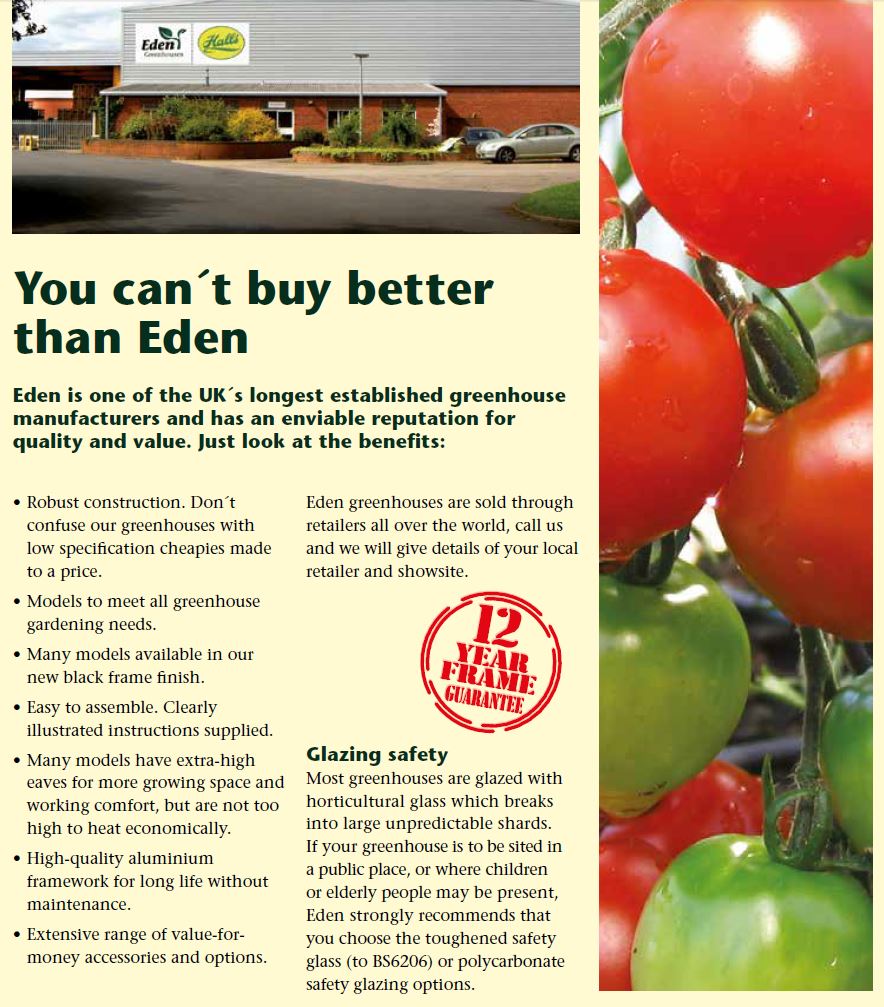 Do I need the Install ?
These greenhouses DO come with good instructions - and CAN be build by a novice (like myself). However, an 8 by 8 greenhouse took me a day and a half ... and I was careful to choose fine weather ! Lots of people prefer to have the greenhouse professionally installed. However you must ENSURE that the area is correctly PREPARED for the installer. (flat / clear of debris / reasonable access etc.)
Brand

Colour

Black

Glass Type

Polycarbonate
Write a review about "Eden BIRDLIP Greenhouse 48 Black 6mm polycarbonate"
We want to know your opinion! Write a review about the product "Eden BIRDLIP Greenhouse 48 Black 6mm polycarbonate" and win a National Gardening Gift Voucher of £25 !
Delivery
Islands and Highlands. Please note we may need to charge extra for delivery on certain heavy items. Please enquire before purchasing.
For example Swallow Greenhouses delivery is limited to UK mainland, and does not cover more than 15 Miles to the North of Glasgow, and does not cover Devon and Cornwall. These areas can be covered by negotiation (on price and timescales).
Your order will be sent to you within 3 working days (UK only). We use FEDEX.
Europe customers - please note - We will help if we can. We are shipping to EUROPE - as the currency exchange is currently providing benefits to EURO markets. BUT please - If in doubt about POSTAGE - Please contact us before you buy. Pref. by email. Thanks.
For certain large items (like Husqvarna Riders and Tractors) we always fully assemble and fully test these machines. Consequently, we always deliver these ourselves. These machines are subject to availability, and distance. We may NOT be prepared to undertake some distances (even within the UK mainland).
Husqvarna regulations stipulate that we must deliver Husqvarna machines personally (and perform a handover)... we therefore reserve the right restrict deliveries to reasonable distances. Exception would be for 'proficient users'.
International orders outside EUROPE are NOT currently accepted.
Read all our terms and conditions here. (opens new window)
Are you looking for the product "Eden BIRDLIP Greenhouse 48 Black 6mm polycarbonate"? We offer this product in our garden centre in Pickering, North Yorkshire. You can order the product "Eden BIRDLIP Greenhouse 48 Black 6mm polycarbonate" online or you can visit our garden centre in Pickering, North Yorkshire or for more information about the product "Eden BIRDLIP Greenhouse 48 Black 6mm polycarbonate". We look forward to seeing you soon!