Harrier 56 Petrol Variable Speed Mower with Blade Brake Clutch System - 575A
The Harrier® 56 is our largest pedestrian rear roller rotary lawn mower with the widest rear roller in its class.

This auto-drive lawn mower uses an intuitive Sens-a-Speed system to adjust the drive speed to your walking pace (1.0 - 2.9mph) and the Blade Brake Clutch (BBC) System allows you to stop the blade and use the drive of the mower to travel across gravel to another lawn or empty the grass bag safely without stopping the engine. The end result is an impressive 53cm (21") stripe on a large formal lawn, that's up to 1000 square metres, with minimum effort.
Features and Benefits of Harrier Mowers from Hayter
A two-piece, ribbed rear roller provides superior traction, manoeuvrability and avoids turf marking when turning
Trim Side deck design means you can cut right to the edge – ideal for around borders, raised flower beds and retaining walls
Easy to use height-of-cut lever. Choose between seven different heights (13 - 60mm) for your desired grass length
High performing cut and collection system uses the front and side fins to remove grass clippings once cut
ReadyStart® technology ensures hassle free starting time after time
Folding handlebars reduces the storage space needed
Create perfectly sharp stripes with the integrated ribbed rear roller. For effortless mowing with great results
Aluminium cutter deck that is long-lasting and hard wearing
High performing cut and collection system uses Vari-Pitch™ cutting technology to remove grass clippings once cut
Easy-wash hose connector allows you to clean the underside of your Harrier® without getting your hands dirty
Lifetime Deck Warranty against any cracking or breaking of the aluminium deck during normal use
Quickly collect any unwanted leaves from your lawn by setting your height-of-cut one position above your grass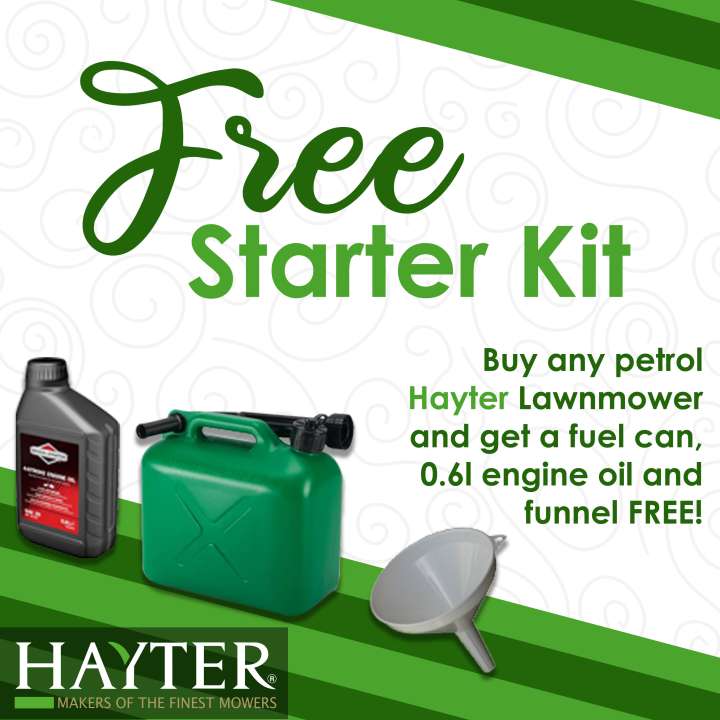 Models in the Harrier 56 range include
Harrier 56 - Variable Speed
Harrier 56 - BBC
Harrier 56 - Electric Start
Harrier 56 - Pro
For more information - Give us a call on 01751 475666.
Why order from Steam and Moorland ?
We are a family-run business based in North Yorkshire, we endeavour to "get it right first time", but we are also reactive and tenacious in getting any problems sorted for you.
Delivery is direct, and usually takes about 7-10 days. Islands and Highlands - Please Enquire first.
Brand

Cutting Height Max (cm)

1.3 - 6

Engine Brand/Type

Briggs & Stratton 850E Series

Width (in m)

58.5

Length

157.4

Height (in m)

104.3

Fuel

Unleaded

Weight (kg)

54

Cutter Deck Size

56cm

Lawn Size

Up to 1000sqm

Power Source

Petrol

Grass Bag Capacity (L)

70

Assembly

Assembly required

Years warranty

2
Write a review about "Hayter Harrier 56 575A Autodrive VS BBC"
We want to know your opinion! Write a review about the product "Hayter Harrier 56 575A Autodrive VS BBC" and win a National Gardening Gift Voucher of £25 !
Delivery
Islands and Highlands. Please note we may need to charge extra for delivery on certain heavy items. Please enquire before purchasing.
For example Swallow Greenhouses delivery is limited to UK mainland, and does not cover more than 15 Miles to the North of Glasgow, and does not cover Devon and Cornwall. These areas can be covered by negotiation (on price and timescales).
Your order will be sent to you within 3 working days (UK only). We use FEDEX.
We are currently only able to deliver to UK addresses. We are no longer able to ship to Europe.
For certain large items (like Husqvarna Riders and Tractors) we always fully assemble and fully test these machines. Consequently, we always deliver these ourselves. This means that we can fulfil Husqvarna's requirement to perform an in-person handover. The only exception to this would be for "proficient users". We can deliver riders and tractors across mainland UK. Deliveries of these items within Yorkshire are FREE. Outside of Yorkshire, please contact us by phone on 01751 475666 or email us before purchasing riders and tractors to discuss delivery pricing and timescales.
Read all our terms and conditions here. (opens new window)
Are you looking for the product "Hayter Harrier 56 575A Autodrive VS BBC"? We offer this product in our garden centre in Pickering, North Yorkshire. You can order the product "Hayter Harrier 56 575A Autodrive VS BBC" online or you can visit our garden centre in Pickering, North Yorkshire or for more information about the product "Hayter Harrier 56 575A Autodrive VS BBC". We look forward to seeing you soon!