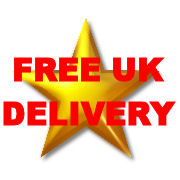 The *new* Halls Qube is designed to match most garden and house types. It has been created with an innovative new profile which gives the greenhouse its name (Qube) and which guarantees a durable and robust greenhouse which at the same time has a simple and elegant look.
The high-pitched roof allows snow to quickly slide off whilst creating a roomy interior with plenty of space to work.
The Cube+ greenhouse is strong and practical, and is available in powder-coated black with long pane toughened glass.
The Cube+ is now 8ft wide with a double door. The extra width gives more room and a larger sense of space. A Halls Qube+ is therefore perfect as your personal cosy space where you can dive into a book whilst the sun warms you - or it can function as your own little hideaway where you can grow your own herbs, flowers, cucumbers, tomatoes, beans and much more besides.
Available in 8x8, 8x12 and 8x16.
Ventilation is via at least two roof vents, four in the 812 and 816 models.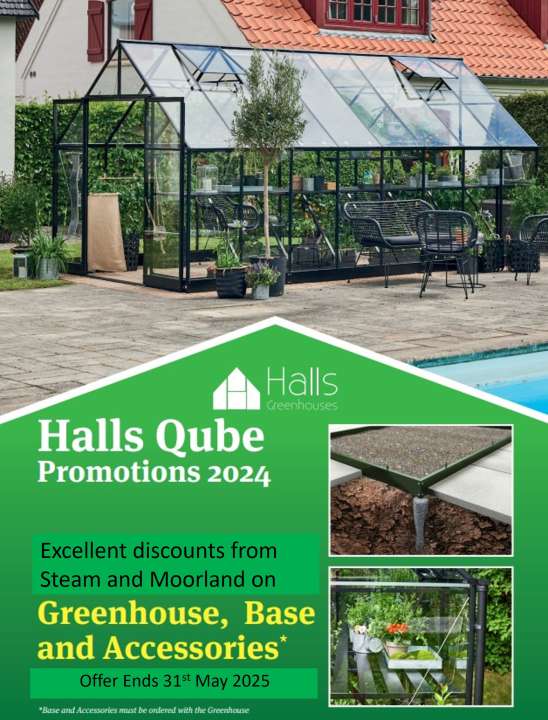 Don't forget greenhouse bases and staging - delivery of these is also free at the same time as purchasing a Halls greenhouse.
With a Halls Qube you'll get :
A floating greenhouse :
The structural glass design makes the greenhouse blend with the background.
The glass is installed using tape and capping – no more fiddly spring wire glazing clips.
Newly developed box section profiles :
Use less aluminium than older styles but they optimise the strength of the greenhouse making it durable and easy to erect, yet having a light and elegant look.
A revolutionary door design :
Using sliders rather than the traditional wheels means that the door doesn't jam and can't jump off the door track.
There is no door track so the door blends into the greenhouse when closed and can be secured using a simple padlock (not supplied).
The low threshold :
Allows easy access and makes it easier to wheel in a small wheelbarrow or trolley.
Wide gutters :
Allow for 40mm drainage pipes so even large amounts of rainwater can be channelled into a waterbutt and used for watering. This makes sense for both the environment and your wallet.
Downpipes are available to purchase as an optional extra.
3mm toughened glass :
Offers increased safety and is less likely to be affected by footballs or stones thrown up by the lawnmower. If you are unlucky enough to break a pane it will shatter into small pieces thereby significantly reducing the chance of injury.
The toughened glass is provided in full length panels which give the greenhouse a stream-lined look and contributes to the ethereal feel.
Many ways to dress your greenhouse :
From shelves to staging to louvres and automatic vent openers. Many of the accessories are integrated into the greenhouse which enables you to maximise the space you have and adds an extra dimension without compromising the aesthetics.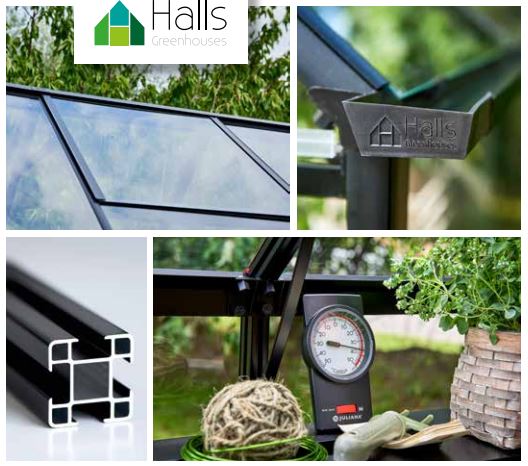 Important Sizing Information
Before you build your base, please check this important sizing information. Thank You.

Why order from Steam and Moorland ?
We are a family-run business based in North Yorkshire, we endeavour to "get it right first time", but we are also reactive and tenacious in getting any problems sorted for you.
Delivery is direct, and usually takes about 7-10 days. Islands and Highlands - Please enquire first.
Write a review about "Halls QUBE+ Greenhouse 812 Black Toughened Glass"
We want to know your opinion! Write a review about the product "Halls QUBE+ Greenhouse 812 Black Toughened Glass" and win a National Gardening Gift Voucher of £25 !
Delivery
Islands and Highlands. Please note we may need to charge extra for delivery on certain heavy items. Please enquire before purchasing.
For example Swallow Greenhouses delivery is limited to UK mainland, and does not cover more than 15 Miles to the North of Glasgow, and does not cover Devon and Cornwall. These areas can be covered by negotiation (on price and timescales).
Your order will be sent to you within 3 working days (UK only). We use FEDEX.
We are currently only able to deliver to UK addresses. We are no longer able to ship to Europe.
For certain large items (like Husqvarna Riders and Tractors) we always fully assemble and fully test these machines. Consequently, we always deliver these ourselves. This means that we can fulfil Husqvarna's requirement to perform an in-person handover. The only exception to this would be for "proficient users". We can deliver riders and tractors across mainland UK. Deliveries of these items within Yorkshire are FREE. Outside of Yorkshire, please contact us by phone on 01751 475666 or email us before purchasing riders and tractors to discuss delivery pricing and timescales.
Read all our terms and conditions here. (opens new window)
Are you looking for the product "Halls QUBE+ Greenhouse 812 Black Toughened Glass"? We offer this product in our garden centre in Pickering, North Yorkshire. You can order the product "Halls QUBE+ Greenhouse 812 Black Toughened Glass" online or you can visit our garden centre in Pickering, North Yorkshire or for more information about the product "Halls QUBE+ Greenhouse 812 Black Toughened Glass". We look forward to seeing you soon!