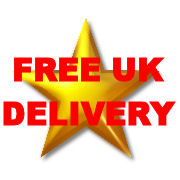 Swallow (GB) is a leading UK greenhouse manufacturer.
All Thermowood used by Swallow (GB) Ltd, is manufactured from quality red pine. The process involves kiln drying the timber which is then put in a special oven where a powerful compressor removes the air. The temperature is raised to 215 degrees C which bakes the timber. The result seals capillaries, destroys resins and proteins and stabilises the timber.
The benefits are -
It can be left untreated
All bacteria is killed, resulting in a sterile material
Paints excellently and lasts up to three times longer
The timber is totally natural and chemical free Reduced thermal conductivity
Consistent colour throughout the wood
Improves durability against decay
Improved dimensional stability
Good choice for allergy sufferers
---
These Swallow (GB) greenhouses are made from ThermoWood - see above. All Glazing is Toughened Glass. See table below for specifications of each greenhouse.
These Swallow Greenhouses represent great value for money, as the price includes INSTALLATION, Toughened Glass, Door Fittings, Staging down one side, PVC damp barrier.
Delivery (and installation) is (approx) within 14 days. The base for the greenhouse MUST be level and adequately prepared. This will be checked (by phone call) in advance of installation.
---
What is INCLUDED with a Swallow Greenhouse ?
FULL Installation (inc Door Furniture)
ThermoWood and Toughened Glass
Roof Vent(s) with Auto Opener(s)
Black PVC Damp Membrane
Staging Down one side
Apex Finial
Double Doors (on Some models)
---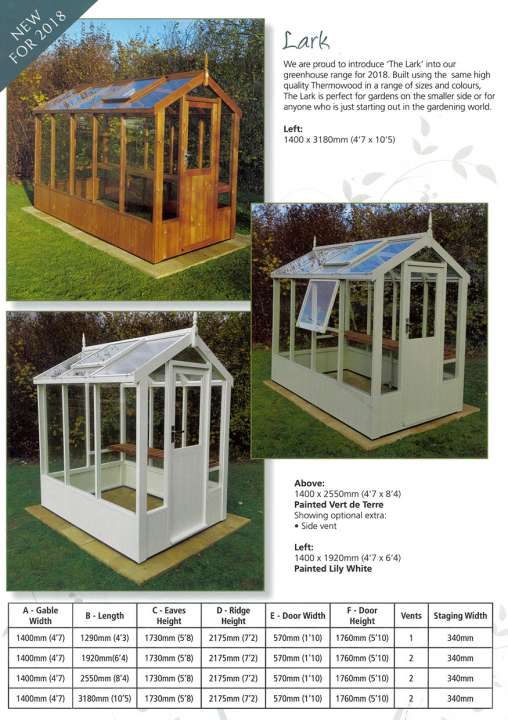 ---
Why order from Steam and Moorland ?
We are a family-run business based in North Yorkshire, we endeavour to "get it right first time", but we are also reactive and tenacious in getting any problems sorted for you.
Delivery is direct from the manufacturer, and usually takes about 7-10 days.
(Important Note : Due to pandemic & other issues - Lead times are now EXTENDED to "up to 25 weeks") - Please enquire first.
Write a review about "Swallow LARK ThermoWood Greenhouse 1400x1290 or 4'7 x 4'3"
We want to know your opinion! Write a review about the product "Swallow LARK ThermoWood Greenhouse 1400x1290 or 4'7 x 4'3" and win a National Gardening Gift Voucher of £25 !
Delivery
Islands and Highlands. Please note we may need to charge extra for delivery on certain heavy items. Please enquire before purchasing.
For example Swallow Greenhouses delivery is limited to UK mainland, and does not cover more than 15 Miles to the North of Glasgow, and does not cover Devon and Cornwall. These areas can be covered by negotiation (on price and timescales).
Your order will be sent to you within 3 working days (UK only). We use FEDEX.
We are currently only able to deliver to UK addresses. We are no longer able to ship to Europe.
For certain large items (like Husqvarna Riders and Tractors) we always fully assemble and fully test these machines. Consequently, we always deliver these ourselves. This means that we can fulfil Husqvarna's requirement to perform an in-person handover. The only exception to this would be for "proficient users". We can deliver riders and tractors across mainland UK. Deliveries of these items within Yorkshire are FREE. Outside of Yorkshire, please contact us by phone on 01751 475666 or email us before purchasing riders and tractors to discuss delivery pricing and timescales.
Read all our terms and conditions here. (opens new window)
Are you looking for the product "Swallow LARK ThermoWood Greenhouse 1400x1290 or 4'7 x 4'3"? We offer this product in our garden centre in Pickering, North Yorkshire. You can order the product "Swallow LARK ThermoWood Greenhouse 1400x1290 or 4'7 x 4'3" online or you can visit our garden centre in Pickering, North Yorkshire or for more information about the product "Swallow LARK ThermoWood Greenhouse 1400x1290 or 4'7 x 4'3". We look forward to seeing you soon!