TM3267 HST
The TM3267 HST features an ISEKI 3 cylinder, clean burn, liquid cooled, 1498 cc 18kW (25HP) diesel engine with a 28L fuel tank. Specification includes a Category 1 3- point linkage with a lift capacity at the link ends of 600 kg, weight frame, hydrostatic power steering with a cylinder guard, F3/R3 HST 2 –pedal transmission, cruise control, selectable 2WD & 4WD, rear axle differential lock, mid and independent rear PTO with 2 mode engagement, EC approved lighting controlled by a stalk type combination switch, mirrors, 7-pin trailer lighting socket, rear mounted ROPS, ISO mounted floor and two double acting auxiliary hydraulic valves.
---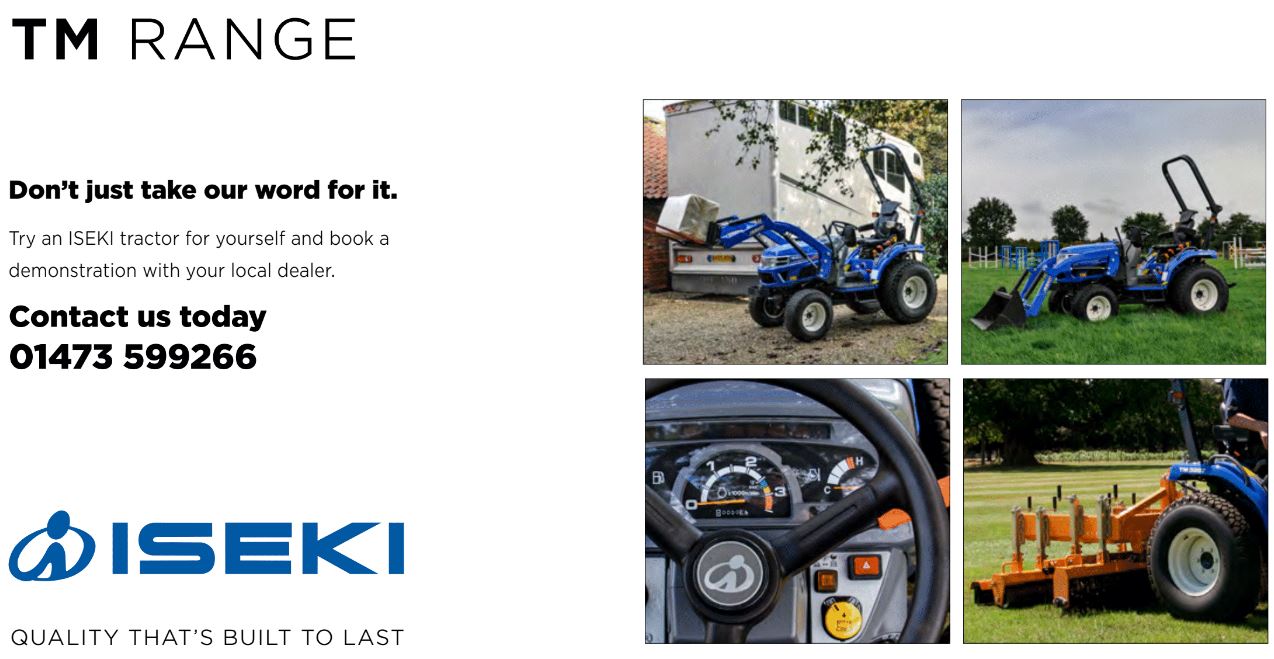 ---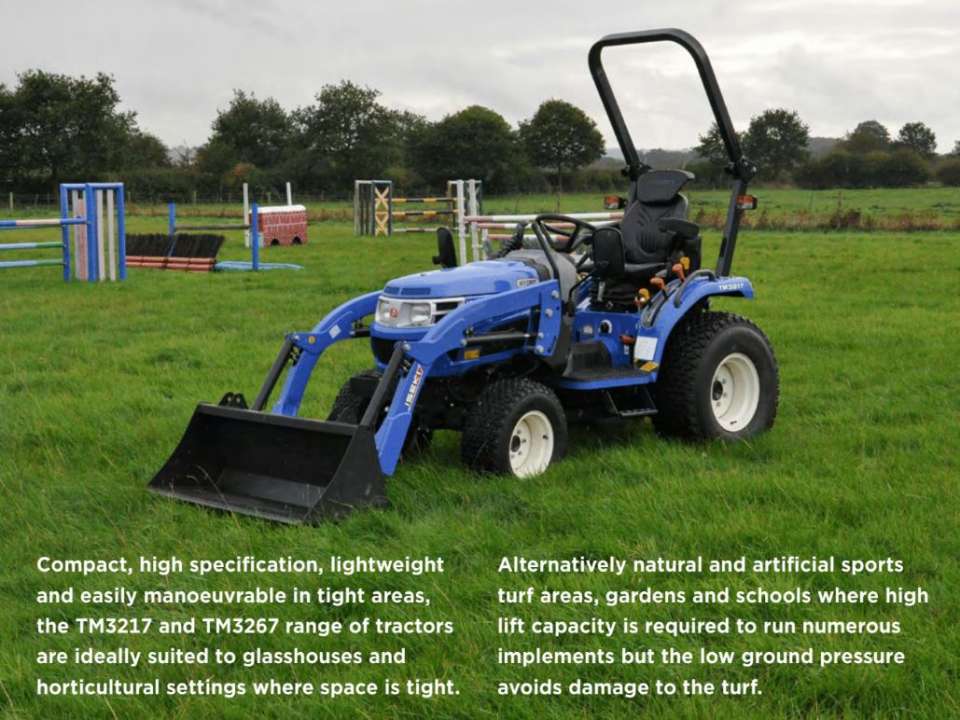 ---

---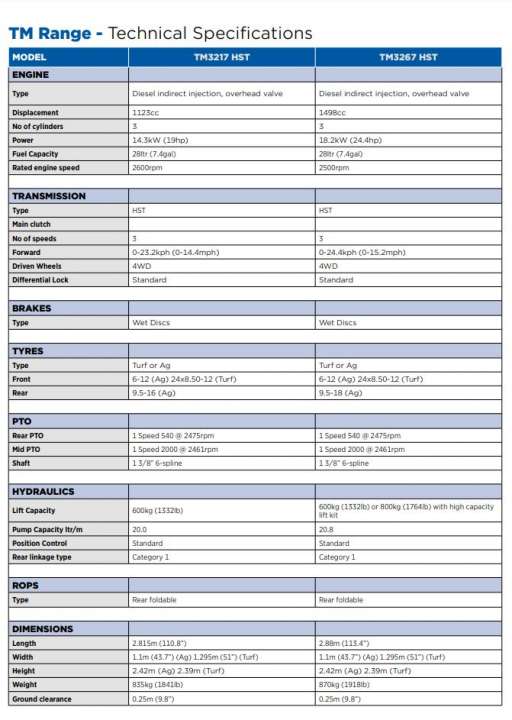 ---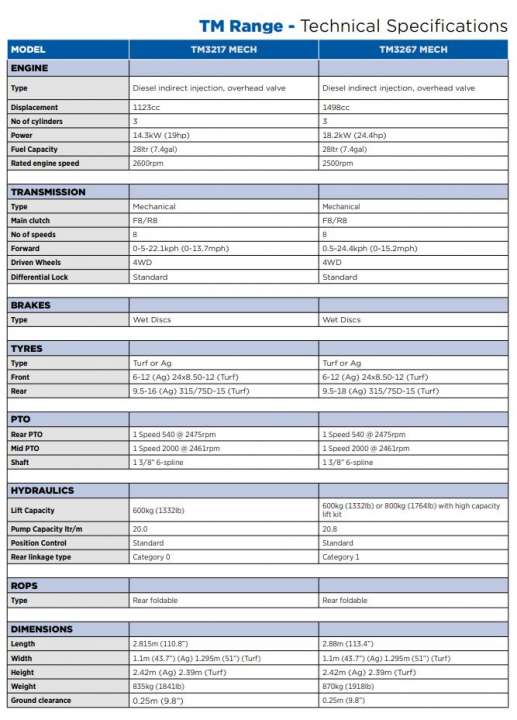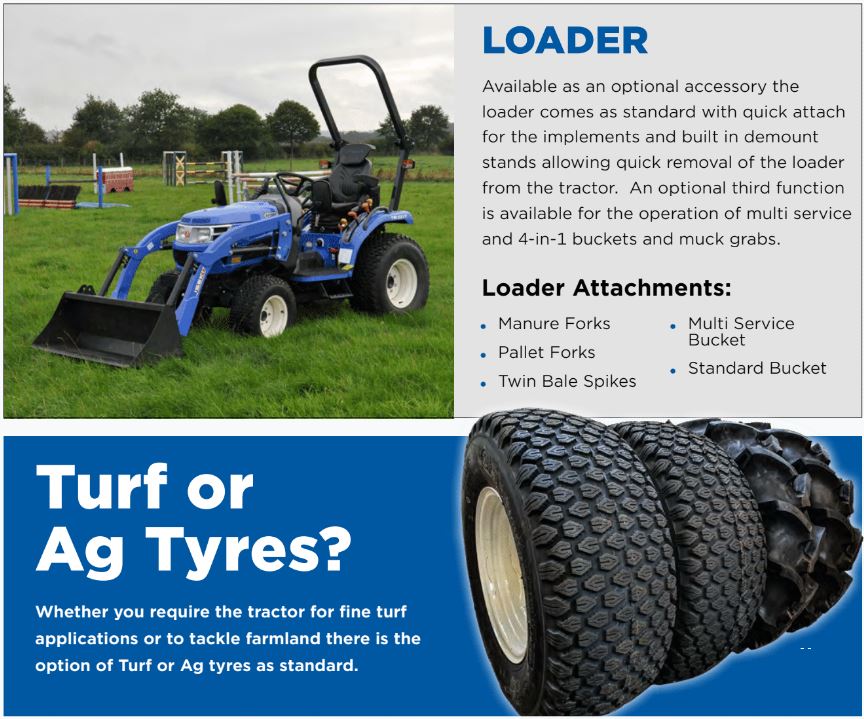 ---
Why order from Steam and Moorland ?
We are a family-run business based in North Yorkshire, we endeavour to "get it right first time", but we are also reactive and tenacious in getting any problems sorted for you.
Delivery is usually by our own driver for Iseki products, in order that we can perform a "product handover". Therefore we will NOT be able to deliver to places at huge distance from ourselves. See Terms.
VAT Receipt
Our prices INCLUDE VAT on our website, and a full itemised VAT receipt will be produced and supplied via email and also upon delivery.
Internet Purchases
These Iseki products are high quality and high value items. We will occasionally put really good deals on this internet site, but payment via PayPal and also by Credit Card is fraught with difficulty.
You will therefore find - that in most cases - the Best Prices will be available to those customers who are (relatively) local to us, and who negotiate personally with us - either at Steam and Moorland or over the phone - and who pay via Bank Transfer.
Demonstrations and Finance Options are often available for most models.
Write a review about "Iseki TM3267 HST - Turf or Ag Tyres"
We want to know your opinion! Write a review about the product "Iseki TM3267 HST - Turf or Ag Tyres" and win a National Gardening Gift Voucher of £25 !
Delivery
Islands and Highlands. Please note we may need to charge extra for delivery on certain heavy items. Please enquire before purchasing.
For example Swallow Greenhouses delivery is limited to UK mainland, and does not cover more than 15 Miles to the North of Glasgow, and does not cover Devon and Cornwall. These areas can be covered by negotiation (on price and timescales).
Your order will be sent to you within 3 working days (UK only). We use FEDEX.
We are currently only able to deliver to UK addresses. We are no longer able to ship to Europe.
For certain large items (like Husqvarna Riders and Tractors) we always fully assemble and fully test these machines. Consequently, we always deliver these ourselves. This means that we can fulfil Husqvarna's requirement to perform an in-person handover. The only exception to this would be for "proficient users". We can deliver riders and tractors across mainland UK. Deliveries of these items within Yorkshire are FREE. Outside of Yorkshire, please contact us by phone on 01751 475666 or email us before purchasing riders and tractors to discuss delivery pricing and timescales.
Read all our terms and conditions here. (opens new window)
Are you looking for the product "Iseki TM3267 HST - Turf or Ag Tyres"? We offer this product in our garden centre in Pickering, North Yorkshire. You can order the product "Iseki TM3267 HST - Turf or Ag Tyres" online or you can visit our garden centre in Pickering, North Yorkshire or for more information about the product "Iseki TM3267 HST - Turf or Ag Tyres". We look forward to seeing you soon!