Cobra M51SPC 20" Self Propelled Petrol Mower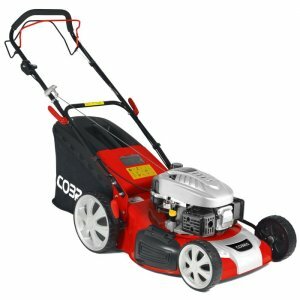 Short description
Comes with a free 1ltr bottle of oil
Cobra DG600 OHV Engine / 173cc Displacement Engine
51cm / 20" Cutting Width
25 - 75mm 10 Stage Adjustment
Mulching / Side Discharge
Self Propelled
60ltr Grass Bag
4-in-1 Collection System
Stock
At this time, the product is not in stock.
Cobra M51SPC 20" Self Propelled Petrol Mower

Short description
Comes with a free 1ltr bottle of oil
Cobra DG600 OHV Engine / 173cc Displacement Engine
51cm / 20" Cutting Width
25 - 75mm 10 Stage Adjustment
Mulching / Side Discharge
Self Propelled
60ltr Grass Bag
4-in-1 Collection System
Stock
At this time, the product is not in stock.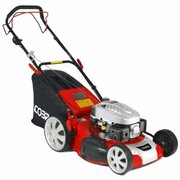 Cobra M51SPC 20" Self Propelled Petrol Mower
M51SPC 20" Cobra Self Propelled Lawnmower
With exceptional performance and style, the Cobra M51SPC petrol 4-in-1 lawnmower is powered by a Cobra DG600 173cc OHV engine and can either mulch, side / rear discharge or collect grass clippings. Every Cobra lawnmower has been expertly designed in the U.K to cater specifically for the changing conditions of the British lawn.
Cobra DG600 engines perfectly match our Cobra lawnmowers
The Cobra DG600 OHV petrol engine is designed to offer a powerful yet lightweight power unit for a the demanding U.K. garden conditions. The Cobra DG600 engine powers Cobra lawnmowers for medium to large gardens.
Start mulching with the Cobra M51SPC
TThe M51SPC lawnmower from Cobra comes equipped with a mulch plug to enable you to mulch your grass clippings back into the lawn. Mulching lawnmowers recycle the grass by finely cutting and re-cutting the clippings. As the clippings decompose, nutrients and fertilisers are returned to the soil meaning you can cut the grass and fertilise at the same time.
Cobra lawnmowers have even more options
IIf you don't want to collect your grass cuttings or your lawn has become overgrown, the M51SPC comes equipped with a side discharge function. Simply lift the side blanking plate and insert the side discharge chute. The grass will now be discharge in neat lines to the side of where you are mowing.
Cobra M51SPC with self drive system
The Cobra M51SPC petrol lawnmower comes equipped with a self propelled drive system for added comfort and ease of operator use. The self propelled drive system takes all the effort out of pushing your Cobra lawnmower, meaning you can maintain your lawn and not feel exhausted when the grass cutting is complete. This feature is especially useful when there are slopes as well as thick grass.
Cobra petrol lawnmowers are packed with innovative features to help you create the perfect garden with the minimum of effort. /p>
Single lever 7 stage height of cut adjustment
TThe Cobra M51SPC petrol lawnmower has 10 adjustable cutting heights ranging from 25mm for a superb low finish, up to 75mm for tackling longer grass. All this is achieved by simply using the single height of cut adjustment lever. Depending on the height of your grass, you can easily and efficiently adjust the cutting height to suit.
Large capacity grass bag for increased collection
TThe Cobra M51SPC petrol lawnmower is equipped with a 60ltr fabric grass bag, ideal for collecting large amounts of grass clippings before the need for emptying. The grass bag on the Cobra M51SPC is made from a robust, high quality fabric. This fabric enables a strong free flow of air which means that grass collection on this machine is even more compact and comprehensive.
Why purchase from Steam and Moorland ?
We pride ourselves on getting it right
Steam and Moorland is a family-run business based in North Yorkshire. We pride ourselves on getting your order right first time, and good communication with our customers in order to resolve any issues. See our Testimonials Page.
Paperwork Included
Our prices include VAT, and a VAT receipt is included with all goods.
Write a review about "Cobra M51SPC 20" Self Propelled Petrol Mower"
We want to know your opinion! Write a review about the product "Cobra M51SPC 20" Self Propelled Petrol Mower" and win a National Gardening Gift Voucher of £25 !
Delivery
Islands and Highlands. Please note we may need to charge extra for delivery on certain heavy items. Please enquire before purchasing.
For example Swallow Greenhouses delivery is limited to UK mainland, and does not cover more than 15 Miles to the North of Glasgow, and does not cover Devon and Cornwall. These areas can be covered by negotiation (on price and timescales).
Your order will be sent to you within 3 working days (UK only). We use FEDEX.
We are currently only able to deliver to UK addresses. We are no longer able to ship to Europe.
For certain large items (like Husqvarna Riders and Tractors) we always fully assemble and fully test these machines. Consequently, we always deliver these ourselves. This means that we can fulfil Husqvarna's requirement to perform an in-person handover. The only exception to this would be for "proficient users". We can deliver riders and tractors across mainland UK. Deliveries of these items within Yorkshire are FREE. Outside of Yorkshire, please contact us by phone on 01751 475666 or email us before purchasing riders and tractors to discuss delivery pricing and timescales.
Read all our terms and conditions here. (opens new window)
Are you looking for the product "Cobra M51SPC 20" Self Propelled Petrol Mower"? We offer this product in our garden centre in Pickering, North Yorkshire. You can order the product "Cobra M51SPC 20" Self Propelled Petrol Mower" online or you can visit our garden centre in Pickering, North Yorkshire or for more information about the product "Cobra M51SPC 20" Self Propelled Petrol Mower". We look forward to seeing you soon!