THE GARDEN ROOM
The new Halls Garden Room is an updated version of a tried and tested traditional greenhouse for well over 60 years, and provides great value for money when it comes to overall size and innovative features.
Frame
The traditional greenhouse frame has been brought into the 21st Century and includes more bracing to help it cope with harsher weather. The roof pitch has been cleverly increased to not only provide more volume of air within the greenhouse, but to also aid snow loading capacity. Increasing the roof pitch has allowed a complete redesign of the ridge bar to include a channel on top for decorative cresting, and gutters which now offer a much improved water harvesting capacity to capture much more precious rainfall.
Toughened glass with capping
The Garden Room is supplied with 3 mm full length toughened glass; the best choice when it comes to glazing a greenhouse. Full length safety glass eliminates the normal overlap and can also better withstand high velocity impacts. If it does break, it breaks into small harmless particles making it the ideal choice in a family oriented environment. The capping secures the glass along the full length of both sides of each pane making the greenhouse stronger in windy conditions. It also provides a superior finish, with the added bonus of being easier to clean.
Anti-capillary glass clips
The anti-capillary glass clips vastly improve rain water runoff into the gutters; they also eliminate the possibility of the water ingress through capillary action making its way back inside the greenhouse. Also, due to the clever design, it minimises internal condensation drips by allowing condensation that builds up on the inside of the roof to freely drain down the pane of glass directly into the gutters.
Water harvesting gutter corner joint
The first of its kind interior water harvesting component for greenhouses. This innovative design allows you to capture water on the inside of the greenhouse in two locations.
Roof vents
Four roof vents are supplied as standard to circulate and vent the huge volume of air contained within this large greenhouse.
Doors
The hangar style double doors and innovative low threshold design eliminate the traditional stepping over or ducking to enter your greenhouse. Included as standard are industrial inspired door handles to ensure smooth operation with a lock hole that allows a padlock.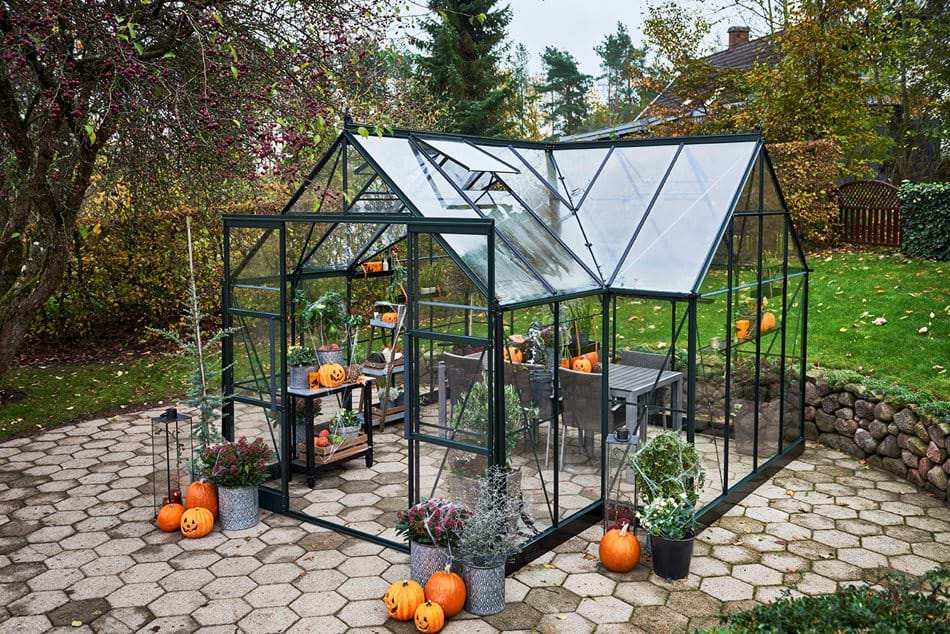 ---
---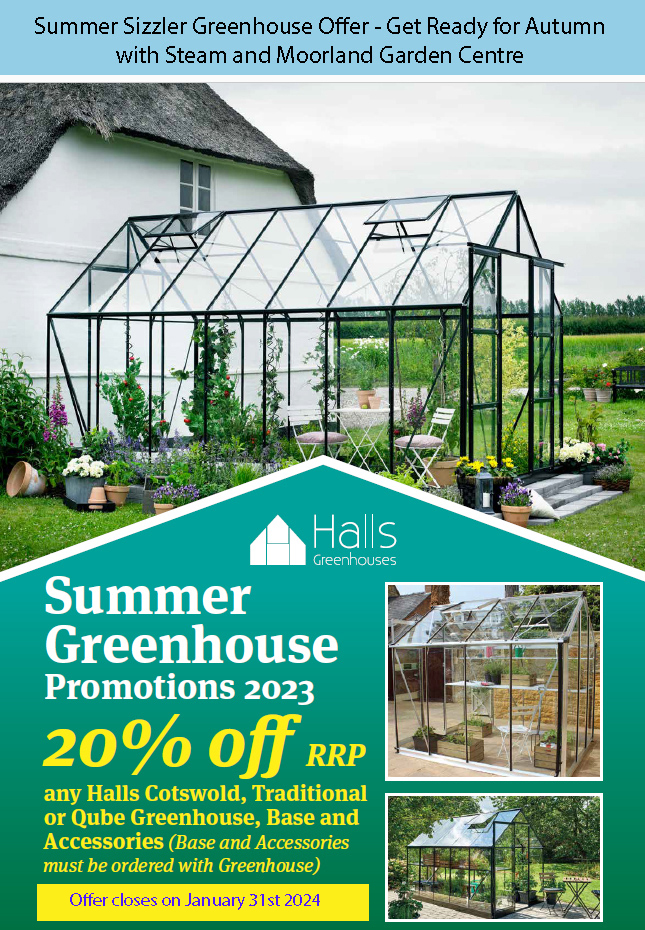 Even better - Offer until End Feb 2023
Until End Feb 2023 ONLY ... As well as 20 percent OFF .... The BASE (black) is actually FREE !!!!
Simply do NOT select the base from the options below. Your Garden Room Greenhouse will come with the base.
Important Sizing Information
Before you build your base, please check this important sizing information. Thank You.

Why order from Steam and Moorland ?
We are a family-run business based in North Yorkshire, we endeavour to "get it right first time", but we are also reactive and tenacious in getting any problems sorted for you.
Delivery is direct, and usually takes about 7-10 days. Islands and Highlands - Please enquire first.
Do I need the BASE ?
The base is (occasionally) on offer and so (sometimes) is included with the greenhouse. In which case you can set this to ZERO.
Also, sometimes people do NOT need the base if the greenhouse is to be built onto another structure like a brick or concrete or wooden wall. However in MOST cases you will find it "far easier" to build your greenhouse onto this "purpose-designed base". Most people DO purchase the greenhouse with the base (unless it is included in an "offer").
The Halls Garden Room Base is black ... and looks exceptionally good with the black Garden Room itself.
Do I need the Install ?
Halls greenhouses DO come with good instructions - and CAN be build by a novice (like myself). However, an 8 by 8 greenhouse took me a day and a half ... and I was careful to choose fine weather ! Lots of people prefer to have the greenhouse professionally installed. However you must ENSURE that the area is correctly PREPARED for the installer. (flat / clear of debris / reasonable access etc.)
It might be as well to have the Halls Garden Room professionally assembled. (optional extra).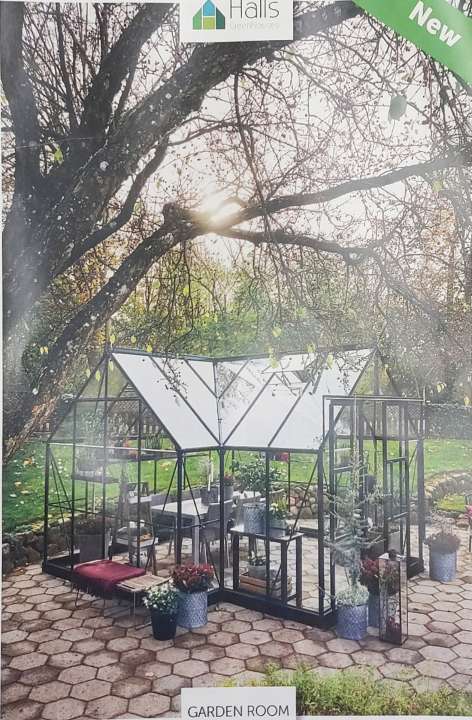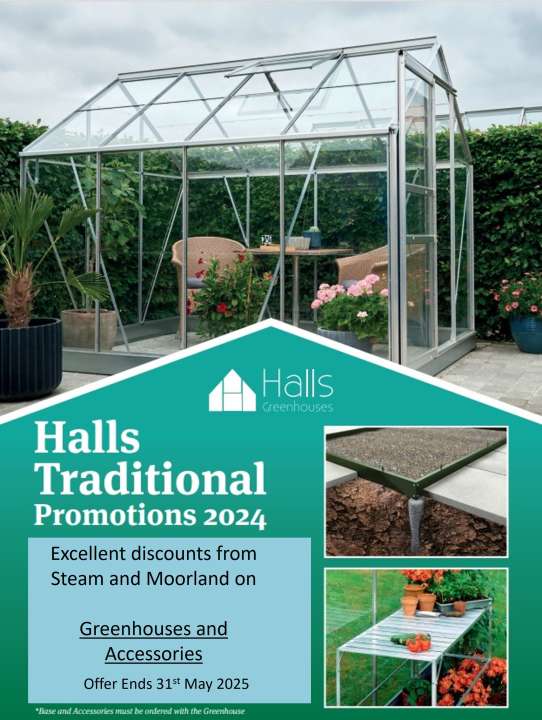 Write a review about "Halls Garden Room Black Toughened Glass F09891"
We want to know your opinion! Write a review about the product "Halls Garden Room Black Toughened Glass F09891" and win a National Gardening Gift Voucher of £25 !
Delivery
Islands and Highlands. Please note we may need to charge extra for delivery on certain heavy items. Please enquire before purchasing.
For example Swallow Greenhouses delivery is limited to UK mainland, and does not cover more than 15 Miles to the North of Glasgow, and does not cover Devon and Cornwall. These areas can be covered by negotiation (on price and timescales).
Your order will be sent to you within 3 working days (UK only). We use FEDEX.
We are currently only able to deliver to UK addresses. We are no longer able to ship to Europe.
For certain large items (like Husqvarna Riders and Tractors) we always fully assemble and fully test these machines. Consequently, we always deliver these ourselves. This means that we can fulfil Husqvarna's requirement to perform an in-person handover. The only exception to this would be for "proficient users". We can deliver riders and tractors across mainland UK. Deliveries of these items within Yorkshire are FREE. Outside of Yorkshire, please contact us by phone on 01751 475666 or email us before purchasing riders and tractors to discuss delivery pricing and timescales.
Read all our terms and conditions here. (opens new window)
Are you looking for the product "Halls Garden Room Black Toughened Glass F09891"? We offer this product in our garden centre in Pickering, North Yorkshire. You can order the product "Halls Garden Room Black Toughened Glass F09891" online or you can visit our garden centre in Pickering, North Yorkshire or for more information about the product "Halls Garden Room Black Toughened Glass F09891". We look forward to seeing you soon!