Honda Lawnmower HRX 537 HY
Short description
Hydrostatic self propelled
53 cm (21") cutting width
Versamow variable mulching
Roto-Stop
Auto choke
Honda 4-stroke GCV200 engine
Ideal for large sized lawns ( > 2 tennis courts)
7 years domestic / 1 year commercial warranty (terms apply)
Stock
At this time, the product is not in stock.
Honda Lawnmower HRX 537 HY
Short description
Hydrostatic self propelled
53 cm (21") cutting width
Versamow variable mulching
Roto-Stop
Auto choke
Honda 4-stroke GCV200 engine
Ideal for large sized lawns ( > 2 tennis courts)
7 years domestic / 1 year commercial warranty (terms apply)
Stock
At this time, the product is not in stock.
Honda Lawnmower HRX 537 HY
Why choose the Honda HRX 537 HY Lawn Mower?
The Honda HRX 537 HY lawn mower is powered by an ultra-reliable OHC 4-stroke Honda GCV200 201cc engine which delivers ultimate power and performance.
It comes with the Honda Versamow 4-in-1 function, which enables you to collect, mulch, rear discharge your clippings, as well as mulch and collect at the same time. With the Versamow system, you don't need a mulch plug in order to mulch, just simply select your preferred mowing mode via the cleverly placed single lever. The Versamow function free's up plenty of room in the large 88 litre grass bag. The system also offers a setting for leaf shredding where leaves are recirculated until they are small enough to pass through the Versamow opening and into the bag.
The fully folding handles on the HRX 537 HY rid any storage problems, allowing you to easily store the machine in the garden shed.
With Honda's exclusive HRX cruise control (hydrostatic transmission) it allows infinite speed control for a comfortable level between 0 to 4 mph while producing a splendid cut.
With a durable Xenoy® deck, it will never rust, dent or corrode, providing a very long service life. The deck carries a five-year warranty and is strong enough to support the weight of a car.
The Honda microcut twin blade system is designed to produce finer clippings for even better mulching. The system uses four cutting surfaces to cut the grass into tiny pieces that decompose quickly, adding plenty of nutrients to the lawn.
With Honda's unique blade-brake system, Roto-stop®, you can have complete peace of mind knowing that it has plenty of safety functions. With Rotostop, you are able to let go of the handle, and the engine will continue to run whilst the blades stop.
Honda HRX537HY Key Features
Polystrong® Deck
The cutter deck made from Polystrong®/ Xenoy®. It's harder and tougher than a rhinoceros, but a lot easier to handle. Specially developed by Honda for HRX lawn mowers, it is created as one complete and super-smooth unit, designed to improve the mower's collecting performance. It's so much lighter too, which makes the HRX easier to handle. This special cutter deck is light, resistant to UV rays, and will not rust. It also contributes to keeping the noise level low while in use and because the grass cuttings have less chance of sticking to it compared to steel or alloy, it's easy to keep clean.
Safety and Performance
Blade efficiency and strength are important, but safety levels need to be maintained too. If a blade breaks or becomes unbalanced it can be a danger. These blades are designed to twist, not break, if you're unlucky enough to hit a solid obstacle while mowing. This Honda innovation not only increases safety, it will also prevent further damage to the engine and the cutter deck.
Finer clippings for a finer lawn
These specially designed offset MicroCut twin-blades work together to cut the grass cuttings into ultra-fine particles. Recycling these clippings back into your lawn creates a natural fertiliser, which will eventually produce an eye-pleasing greener lawn. Finer clippings take up less volume in the bag too, so you can mow much further before you have to empty the bag.
Versamow™ variable mulching
With a single lever, Honda's Versamow™ system will either collect the grass cuttings into the bag or finely shred and blow them down into the lawn to create a natural fertiliser or the perfect mix of both. An adjustable window situated between the cutting area and the grass bag that can be operated easily by hand. There are five fine settings for our Versamow™ type mowers that can be positively selected by hand. No tools or attachments are needed. By gradually opening or closing the sliding 'window' built into the cutter deck you can control the amount of grass left behind on the lawn.
A blade brake clutch
The Honda HRX 537 HY utilises Honda's Roto-stop® technology. It's a safety feature that allows you to disengage the blade without having to cut the engine. That means you don't have to stop and restart it every time you go over a gravel pathway or when it's time to empty the collection bag. Roto-stop® is operated via a hand control button positioned on the HRX handle.
The Perfect Height
For a greener lawn you have to get the cut spot on. You should only cut a blade of grass one third of its length for healthier growth. The adjustment is easy with the HRX 537 HY mower. Simply take hold of the handle and press the release button. You can then lower or raise the deck evenly over all four wheels for an accurate cut. Once you've got the height absolutely right for the length of cut your lawn will start to look and feel much better, for longer. There's another benefit to this too – you won't be constantly stopping and emptying the bag by cutting more than you actually need to.
Free Flowing Air
All HRX mowers have high airflow collection bags and dust covers. Airflow is generated within the cutter deck by the rotating blades. Air is drawn into the cutter deck and directed through to the collection bag taking all the grass clippings with it. This is important for the collecting process, with the increased air pressure being directed through to the collecting bag at the rear, taking the grass cuttings with it.
Honda created a special material for our collection bags that's ultra-fine. It maximises the collecting process without affecting the airflow. An additional dust cover stops even the finest dust particles from getting through. You won't find a cleaner and more efficient method anywhere else.
A Stronger Hold
HRX mowers have a quick and easy-to-release handle height adjustment. Mowing for a long time with your hands and arms held too high or too low can be a pain in the neck. For better comfort, there's a simple hand adjustment that allows you to position the handles to suit your height. No tools needed – just set them to your height and away you go. The handles fold neatly down when not in use, and are attached to the cutter deck via an innovative Honda design. They will not flex while you're using them and they take up very little space in storage.
Low noise
Honda's R&D team have designed a patented low noise blade (-0.5dB(A)) compared to traditional blades. With a combination of engine and cutter deck design, its noise level is 30% under the current EU standard.
Auto-choke
All of our products are powered by world class Honda engines so you can be assured of reliable starting and low maintenance. All of our lawnmowers run on unleaded petrol.
Warranty
This lawnmower comes with an incredible 7 year warranty (if used in a domestic environment and subject to annual service). Honda core lawnmowers are supported with one of the longest and most comprehensive warranties in the industry.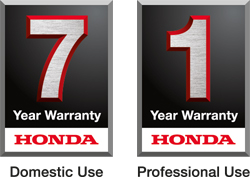 Why purchase from Steam and Moorland ?
We pride ourselves on getting it right
Steam and Moorland is a family-run business based in North Yorkshire. We pride ourselves on getting your order right first time, and good communication with our customers in order to resolve any issues. See our Testimonials Page.
Paperwork Included
Our prices include VAT, and a VAT receipt is included with all goods.
Write a review about "Honda Lawnmower HRX 537 HY"
We want to know your opinion! Write a review about the product "Honda Lawnmower HRX 537 HY" and win a National Gardening Gift Voucher of £25 !
Delivery
Islands and Highlands. Please note we may need to charge extra for delivery on certain heavy items. Please enquire before purchasing.
For example Swallow Greenhouses delivery is limited to UK mainland, and does not cover more than 15 Miles to the North of Glasgow, and does not cover Devon and Cornwall. These areas can be covered by negotiation (on price and timescales).
Your order will be sent to you within 3 working days (UK only). We use FEDEX.
We are currently only able to deliver to UK addresses. We are no longer able to ship to Europe.
For certain large items (like Husqvarna Riders and Tractors) we always fully assemble and fully test these machines. Consequently, we always deliver these ourselves. This means that we can fulfil Husqvarna's requirement to perform an in-person handover. The only exception to this would be for "proficient users". We can deliver riders and tractors across mainland UK. Deliveries of these items within Yorkshire are FREE. Outside of Yorkshire, please contact us by phone on 01751 475666 or email us before purchasing riders and tractors to discuss delivery pricing and timescales.
Read all our terms and conditions here. (opens new window)
Are you looking for the product "Honda Lawnmower HRX 537 HY"? We offer this product in our garden centre in Pickering, North Yorkshire. You can order the product "Honda Lawnmower HRX 537 HY" online or you can visit our garden centre in Pickering, North Yorkshire or for more information about the product "Honda Lawnmower HRX 537 HY". We look forward to seeing you soon!