What is the Supreme Apex ?
The Supreme Apex is a good-sized Apex model from Shedlands - "shorties" like me don't have any worry about hitting our head on the door as we go in. If you want a more compact and cheaper Apex - then maybe consider the Shedlands Dalby Apex.
Whether you need room for an exterior workspace or simply an additional space for storage the Supreme provides an attractive solution. This extra high model is the ultimate versatile outdoor space. It comes complete with a fully framed ledged and braced 3' wide door with optional door positions and diagonal side bracing these are all included as standard.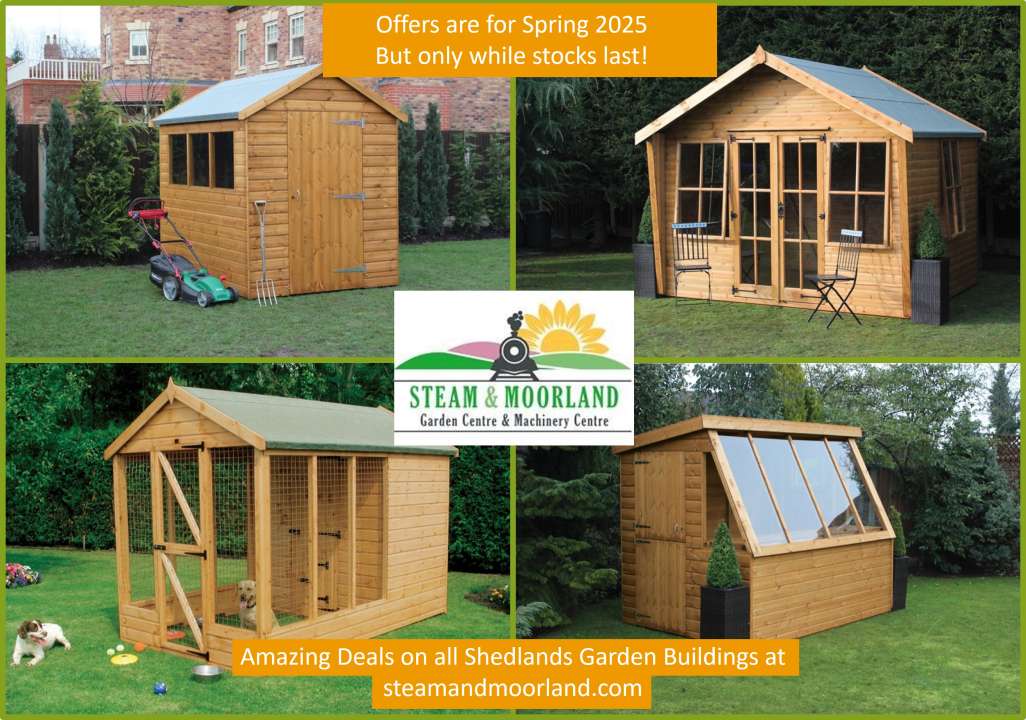 If you wish to Order ...
1) The images of sheds above show you a generic Shedlands Supreme Apex and do NOT necessarily show the correct shed SIZE.
2) Please * DO * tell us the Door Position (see below) on the order - otherwise we will need to contact you for this.
Apex Door Positions
Sizes from:
1.22m x 1.22m (4' x 4') up to
3.66m x 2.44m (12' x 8')
Framing:
38mm x 50mm
Eaves:
1864mm
Ridge:
4' - 2190mm
5' – 2260mm
6' - 2336mm
8' – 2475mm
3' Door:
1880mm x 914mm
Zinc Hinges
Zinc 'D' Handle
Lock & Key
Why order from Steam and Moorland ?
We are a family-run business based in North Yorkshire, we endeavour to "get it right first time", but we are also reactive and tenacious in getting any problems sorted for you.
Delivery is direct, and usually takes about 7-10 days. Islands and Highlands - Please enquire first.
Does this include Delivery and Assembly ?
Yes, but if you are in Islands or Highlands - Please enquire first and we will find out what can be done.
Write a review about "Shedlands Supreme Apex 10x8"
We want to know your opinion! Write a review about the product "Shedlands Supreme Apex 10x8" and win a National Gardening Gift Voucher of £25 !
Delivery
Islands and Highlands. Please note we may need to charge extra for delivery on certain heavy items. Please enquire before purchasing.
For example Swallow Greenhouses delivery is limited to UK mainland, and does not cover more than 15 Miles to the North of Glasgow, and does not cover Devon and Cornwall. These areas can be covered by negotiation (on price and timescales).
Your order will be sent to you within 3 working days (UK only). We use FEDEX.
We are currently only able to deliver to UK addresses. We are no longer able to ship to Europe.
For certain large items (like Husqvarna Riders and Tractors) we always fully assemble and fully test these machines. Consequently, we always deliver these ourselves. This means that we can fulfil Husqvarna's requirement to perform an in-person handover. The only exception to this would be for "proficient users". We can deliver riders and tractors across mainland UK. Deliveries of these items within Yorkshire are FREE. Outside of Yorkshire, please contact us by phone on 01751 475666 or email us before purchasing riders and tractors to discuss delivery pricing and timescales.
Read all our terms and conditions here. (opens new window)
Are you looking for the product "Shedlands Supreme Apex 10x8"? We offer this product in our garden centre in Pickering, North Yorkshire. You can order the product "Shedlands Supreme Apex 10x8" online or you can visit our garden centre in Pickering, North Yorkshire or for more information about the product "Shedlands Supreme Apex 10x8". We look forward to seeing you soon!