Halls Cotswold BROADWAY Lean-Tos
The new Eden Broadway brings the award winning Zero Threshold™ door system to the lean-to greenhouse sector. A lean-to greenhouse is a great choice for over-wintering plants because the sun will warm the wall during the day and that warmth will be released into the greenhouse at night, ensuring an ideal growing environment. All Broadway models feature wide, lockable, double doors for perfect access together with high eaves giving plenty of room for plants and people. Wide gutters capture the most rainwater possible and are easy to keep clean. The Broadway lean-to is available in a choice of three attractive frame finishes; aluminium (mill) or powder coated green or black, in either full length toughened safety glass or polycarbonate glazing. The frame features a strong integral base, speeding up the construction process and carries a 12 year frame guarantee.
United Kingdom Patent Application No. 1415430.6 / Community Design No. 002546390-001-002
100% designed and manufactured by British craftsmen

---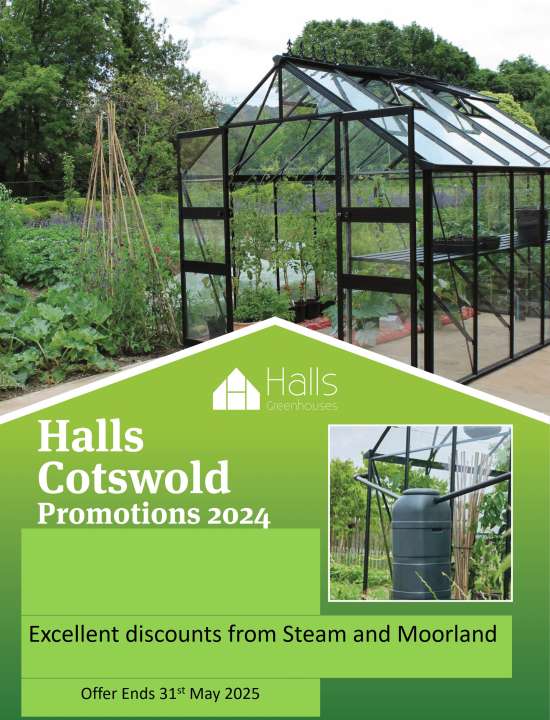 ---
IMPORTANT Sizing Information
Before you build your base, please check this important sizing information. Thank You.

Why order from Steam and Moorland ?
We are a family-run business based in North Yorkshire, we endeavour to "get it right first time", but we are also reactive and tenacious in getting any problems sorted for you.
Delivery is direct, and usually takes about 7-10 days. Islands and Highlands - Please Enquire first.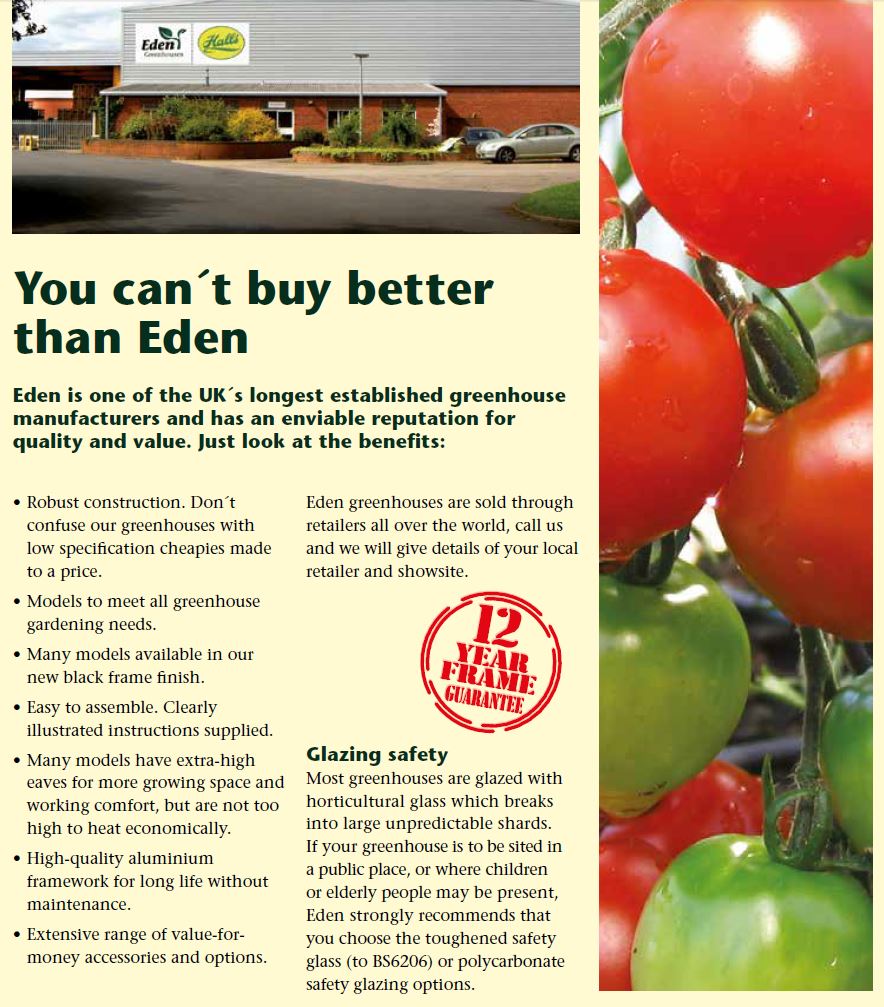 Do I need the Install ?
Due to the fact that the Halls Cotswold Broadway is a Lean-To Greenhouse and therefore it attaches onto an existing structure ... We do NOT offer an installation service / price for these BROADWAY Lean-To Greenhouses.
All Halls Greenhouses DO come with good instructions - and CAN be build by a novice (like myself). However, an 8 by 8 greenhouse took me a day and a half ... and I was careful to choose fine weather ! Therefore you may wish to find a local (to yourself) handyman or builder to help you.. Regardless of who you choose, it is a good idea to ENSURE that the area is correctly PREPARED for the installer. (flat / clear of debris / reasonable access etc.)
---
Write a review about "Halls Cotswold BROADWAY 126 lean-to Green 6mm Polycarbonate"
We want to know your opinion! Write a review about the product "Halls Cotswold BROADWAY 126 lean-to Green 6mm Polycarbonate" and win a National Gardening Gift Voucher of £25 !
Delivery
Islands and Highlands. Please note we may need to charge extra for delivery on certain heavy items. Please enquire before purchasing.
For example Swallow Greenhouses delivery is limited to UK mainland, and does not cover more than 15 Miles to the North of Glasgow, and does not cover Devon and Cornwall. These areas can be covered by negotiation (on price and timescales).
Your order will be sent to you within 3 working days (UK only). We use FEDEX.
We are currently only able to deliver to UK addresses. We are no longer able to ship to Europe.
For certain large items (like Husqvarna Riders and Tractors) we always fully assemble and fully test these machines. Consequently, we always deliver these ourselves. This means that we can fulfil Husqvarna's requirement to perform an in-person handover. The only exception to this would be for "proficient users". We can deliver riders and tractors across mainland UK. Deliveries of these items within Yorkshire are FREE. Outside of Yorkshire, please contact us by phone on 01751 475666 or email us before purchasing riders and tractors to discuss delivery pricing and timescales.
Read all our terms and conditions here. (opens new window)
Are you looking for the product "Halls Cotswold BROADWAY 126 lean-to Green 6mm Polycarbonate"? We offer this product in our garden centre in Pickering, North Yorkshire. You can order the product "Halls Cotswold BROADWAY 126 lean-to Green 6mm Polycarbonate" online or you can visit our garden centre in Pickering, North Yorkshire or for more information about the product "Halls Cotswold BROADWAY 126 lean-to Green 6mm Polycarbonate". We look forward to seeing you soon!