Husqvarna Rider P520D AWD LawnMower Plus Optional 132cm Combi Deck
Husqvarna Rider P520D AWD LawnMower Plus Optional 132cm Combi Deck

Stock
At this time, the product is not in stock.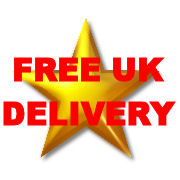 Husqvarna Rider P520D All-Wheel Drive Diesel Lawnmower. You ASKED for it ... And now its here. Yes, its expensive, but just look at this PROFESSIONAL specification.
The P 520D is a diesel-powered front mower offering unbeatable manoeuvrability and productivity in complex and narrow environments as well as in larger-sized areas. The commercial graded transmission gives uncompromised traction and slope stability. The machine's compact size makes it suitable both for stationary and mobile application for municipalities, contractors, housing agencies etc.
Thanks to the front-mounted cutting deck the operator has perfect overview of the working area. This means optimised trimming ability as well as accessibility under benches, bushes etc. Long-life components for solid durability and less downtime. Attachments such as utility bucket, broom, folding plough and cabin give increased productivity all-year round. The P 520D can be fitted with 132 and 155 cm Combi cutting decks.
Unique articulated steering The unique articulated steering system allows the rear pair of wheels to swing in underneath the machine. The result is superior manoeuvrability with a minimum turning radius at full lock.
Front-mounted cutting deck Front-mounted cutting deck for excellent accessability into corners and under bushes, park benches etc.
Power-assisted steering Power-assisted steering makes driving less strenuous and more enjoyable.
All-Wheel-Drive (AWD) All-Wheel-Drive (AWD) ensures traction on uneven, wet and slippery areas and slopes. AWD automatically adjusts the traction on all wheels depending on situation and ground condition.
Equipment lift Hydraulic equipment lift improves performance and allows greater precision and control. The blades are engaged automatically when the cutting deck is lowered.
Versatile usage A wide range of cutting decks and accessories makes our Riders exceptionally versatile, all year round.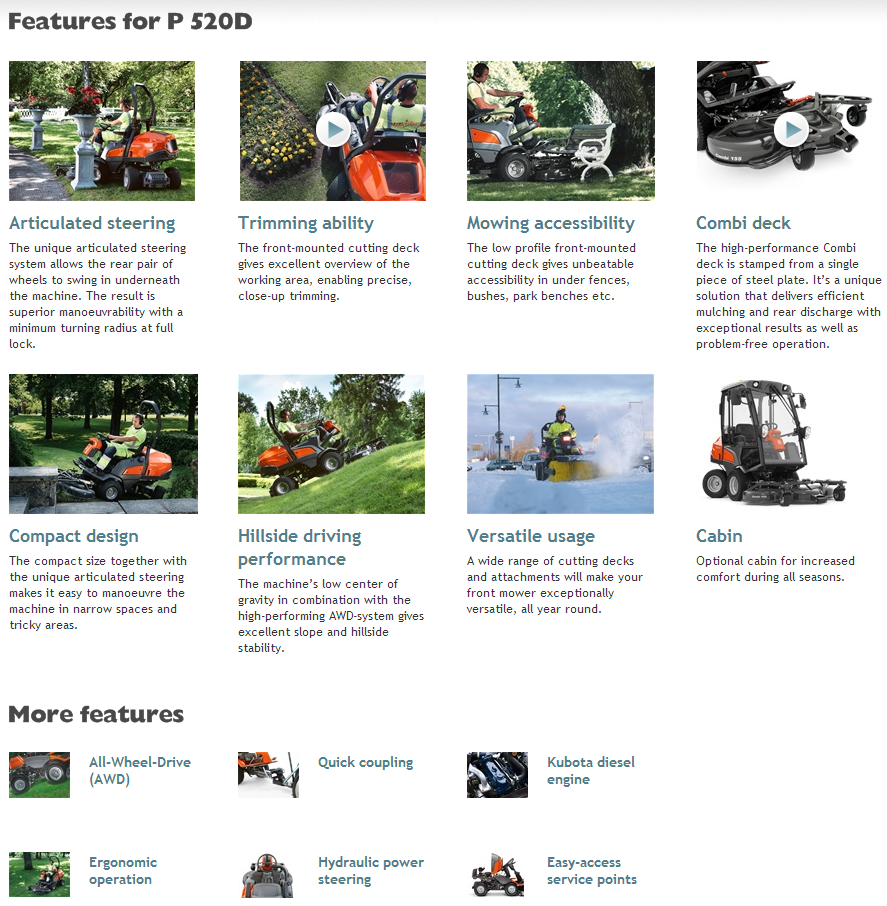 Husqvarna Policy Statement
Husqvarna Products are fully assembled and tested by our mechanics.
They carry a TWO year Husqvarna warranty - provided that -
YOU register your product correctly at - www.husqvarna.co.uk
They are used correctly - for the purposes that they are intended for.
They are serviced at the correct interval, by a Husqvarna Service Centre (like ourselves).
You can telephone us on (01751) 475666 to arrange. Direct line to Machinery Centre.
FREE UK Delivery with all our riders. (See Terms)
Write a review about "Husqvarna Rider P520D AWD LawnMower Plus Optional 132cm Combi Deck"
We want to know your opinion! Write a review about the product "Husqvarna Rider P520D AWD LawnMower Plus Optional 132cm Combi Deck" and win a National Gardening Gift Voucher of £25 !
Delivery
Islands and Highlands. Please note we may need to charge extra for delivery on certain heavy items. Please enquire before purchasing.
For example Swallow Greenhouses delivery is limited to UK mainland, and does not cover more than 15 Miles to the North of Glasgow, and does not cover Devon and Cornwall. These areas can be covered by negotiation (on price and timescales).
Your order will be sent to you within 3 working days (UK only). We use FEDEX.
Europe customers - please note - We will help if we can. We are shipping to EUROPE - as the currency exchange is currently providing benefits to EURO markets. BUT please - If in doubt about POSTAGE - Please contact us before you buy. Pref. by email. Thanks.
For certain large items (like Husqvarna Riders and Tractors) we always fully assemble and fully test these machines. Consequently, we always deliver these ourselves. These machines are subject to availability, and distance. We may NOT be prepared to undertake some distances (even within the UK mainland).
Husqvarna regulations stipulate that we must deliver Husqvarna machines personally (and perform a handover)... we therefore reserve the right restrict deliveries to reasonable distances. Exception would be for 'proficient users'.
International orders outside EUROPE are NOT currently accepted.
Read all our terms and conditions here. (opens new window)
Are you looking for the product "Husqvarna Rider P520D AWD LawnMower Plus Optional 132cm Combi Deck"? We offer this product in our garden centre in Pickering, North Yorkshire. You can order the product "Husqvarna Rider P520D AWD LawnMower Plus Optional 132cm Combi Deck" online or you can visit our garden centre in Pickering, North Yorkshire or for more information about the product "Husqvarna Rider P520D AWD LawnMower Plus Optional 132cm Combi Deck". We look forward to seeing you soon!