Husqvarna P 524EFi With 122cm Combi Deck
Husqvarna P 524EFi With 122cm Combi Deck

Stock
At this time, the product is not in stock.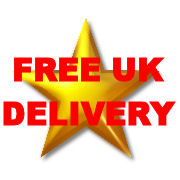 Husqvarna Rider P 524EFi the new PROFESSIONAL rider from Husqvarna.
Compact, efficient front mower featuring Electronic Fuel Injection for reduced fuel consumption, enhanced power and torque without engine drop even in tough conditions. Turn key start means no choke needed: just switch on and go. Articulated power steering helps with tight turns, while AWD ensures traction in any conditions. Fully floating cutting deck, easy access cutting height lever and headlights also help make mowing easier, while full compatibility with all P524 accessories allows year-round productivity. Suitable for sport clubs and hotels as well as housing agencies and contractors who want a versatile, compact, highly manoeuvrable front mower.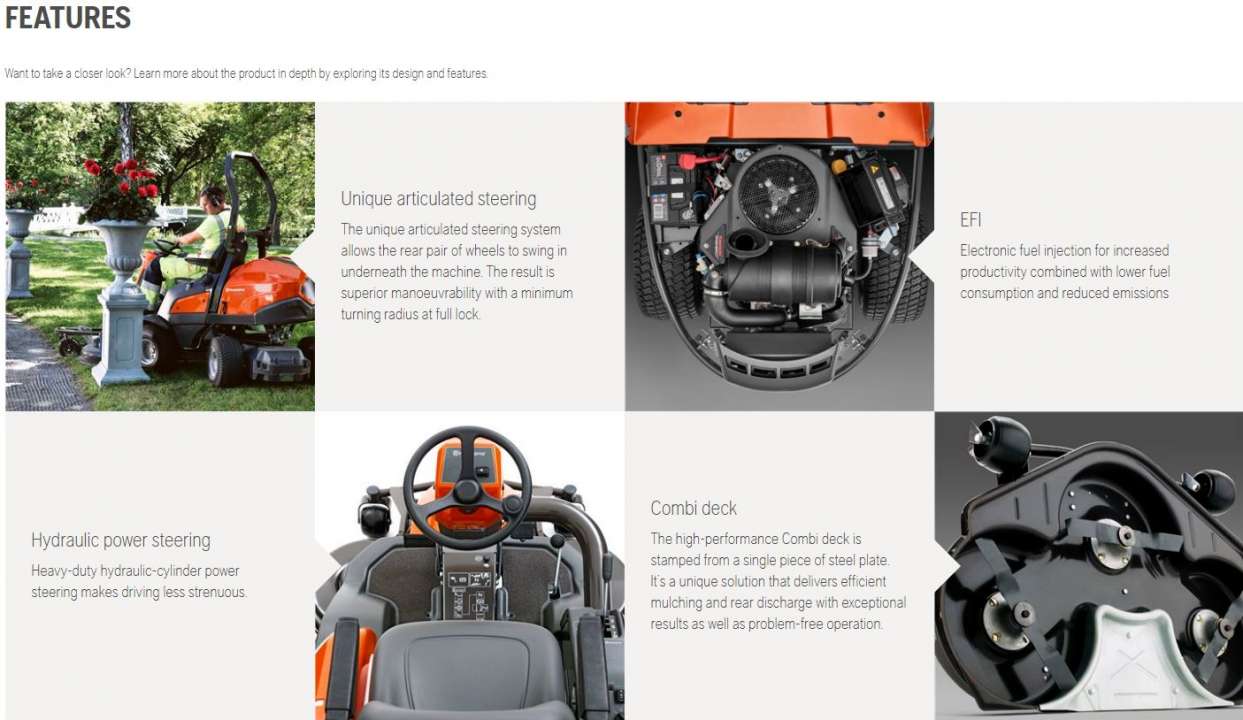 The P 500 series high capacity commercial front mowers are designed for professional grounds maintenance over large expanses and areas with high complexity. Powerful and extremely versatile in a compact yet durable package with highly efficient cutting decks and a wide range of all year use attachments. The P 500 machines will help increase your daily turnover all year round, whether you prefer diesel or petrol power.
Ideal for applications including:
Professional grounds maintenance
Large areas with complexity
Parks and sports facilities
Large residential
Holiday parks
All year round use
Compact commercial petrol-machine that offers excellent manoeuvrability in complex areas.
The electronic fuel injection (EFI) increases power and torque, while lowering fuel consumption and emissions. It also makes starting easy by eliminating the need for a manual choke.
Powerful 2-cylinder Kawasaki EFi engine.
Unique articulated steering concept creates a dynamic weight transfer on the front wheels, maximising traction in all conditions.
Class-leading handling on slopes, thanks to a combination of the steering concept, AWD and a low centre of gravity.
Commercial-grade components for uncompromised durability and maximum uptime.
Ergonomically designed operator interface with all controls within easy reach.
Heavy-duty square tube ladder frame (4–10 mm) with an open design for easy service access.
The Combi deck makes it easy to switch between mulching and rear discharge.
The cutting deck can be tilted up without tools, for easy cleaning and maintenance.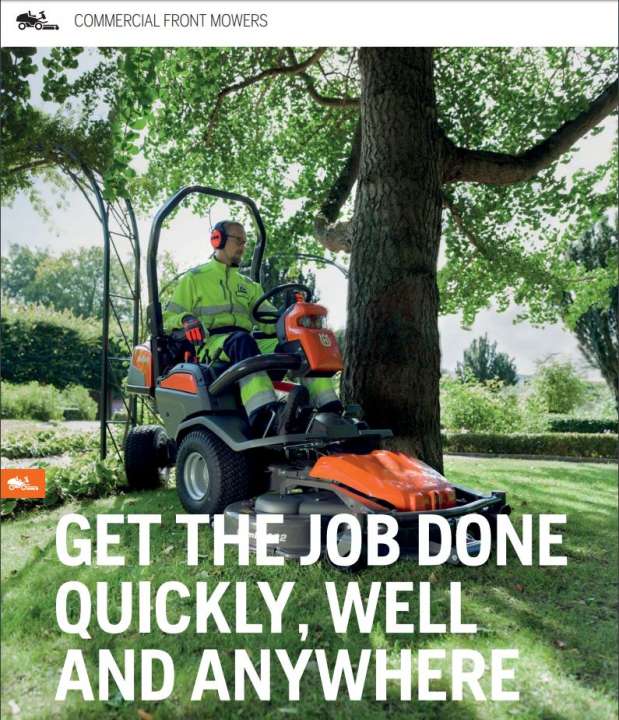 Husqvarna Policy Statement
Husqvarna Products are fully assembled and tested by our mechanics.
They carry a TWO year Husqvarna warranty - provided that -
YOU register your product correctly at - www.husqvarna.co.uk
They are used correctly - for the purposes that they are intended for.
They are serviced at the correct interval, by a Husqvarna Service Centre (like ourselves).
This machine is intended for the professional user. You will probably want to telephone us on (01751) 475666 to arrange. Direct line to Machinery Centre.
FREE UK Delivery with all our riders. (See Terms)
Why purchase from Steam and Moorland ?
We pride ourselves on getting it right
Steam and Moorland is a family-run business based in North Yorkshire. We pride ourselves on getting your order right first time, and good communication with our customers in order to resolve any issues. See our Testimonials Page.
Paperwork Included
Our prices include VAT, and a VAT receipt is included with all goods.
Write a review about "Husqvarna P 524EFi With 122cm Combi Deck"
We want to know your opinion! Write a review about the product "Husqvarna P 524EFi With 122cm Combi Deck" and win a National Gardening Gift Voucher of £25 !
Delivery
Islands and Highlands. Please note we may need to charge extra for delivery on certain heavy items. Please enquire before purchasing.
For example Swallow Greenhouses delivery is limited to UK mainland, and does not cover more than 15 Miles to the North of Glasgow, and does not cover Devon and Cornwall. These areas can be covered by negotiation (on price and timescales).
Your order will be sent to you within 3 working days (UK only). We use FEDEX.
Europe customers - please note - We will help if we can. We are shipping to EUROPE - as the currency exchange is currently providing benefits to EURO markets. BUT please - If in doubt about POSTAGE - Please contact us before you buy. Pref. by email. Thanks.
For certain large items (like Husqvarna Riders and Tractors) we always fully assemble and fully test these machines. Consequently, we always deliver these ourselves. These machines are subject to availability, and distance. We may NOT be prepared to undertake some distances (even within the UK mainland).
Husqvarna regulations stipulate that we must deliver Husqvarna machines personally (and perform a handover)... we therefore reserve the right restrict deliveries to reasonable distances. Exception would be for 'proficient users'.
International orders outside EUROPE are NOT currently accepted.
Read all our terms and conditions here. (opens new window)
Are you looking for the product "Husqvarna P 524EFi With 122cm Combi Deck"? We offer this product in our garden centre in Pickering, North Yorkshire. You can order the product "Husqvarna P 524EFi With 122cm Combi Deck" online or you can visit our garden centre in Pickering, North Yorkshire or for more information about the product "Husqvarna P 524EFi With 122cm Combi Deck". We look forward to seeing you soon!